Sad News and Startling News
April 2, 2022 by Steve Beckow

First it was the public death of athletes.
Now we begin seeing the impact on our movie stars.
Bruce Willis has been diagnosed with aphasia, in which one cannot speak or understand speech clearly. It's a degenerative condition apparently. (1)
Willis is double-vaccinated. However a causal linkage has not been definitely established. And it may never be.
Aphasia is nonetheless being investigated as an outcome of the second vaccination. (2)
Footnotes
(1) "Bruce Willis Steps Away from Acting Due to Aphasia…," Newsview.gr, March 30, 2022, at https://www.newsview.gr/2022/04/bruce-willis-steps-away-from-acting-due.html?m=1
(2) See https://www.ncbi.nlm.nih.gov/pmc/articles/PMC8223021/
---
While I'm here, and on another note, here's Fox News announcing the watermarked-ballot "sting" and the fact that the "Biden crime family" and other perpetrators are being arrested and "will be living in barges off Gitmo."
If that is not a redpill the size of a horse tranquilizer, I don't know what would be.
Video Player
---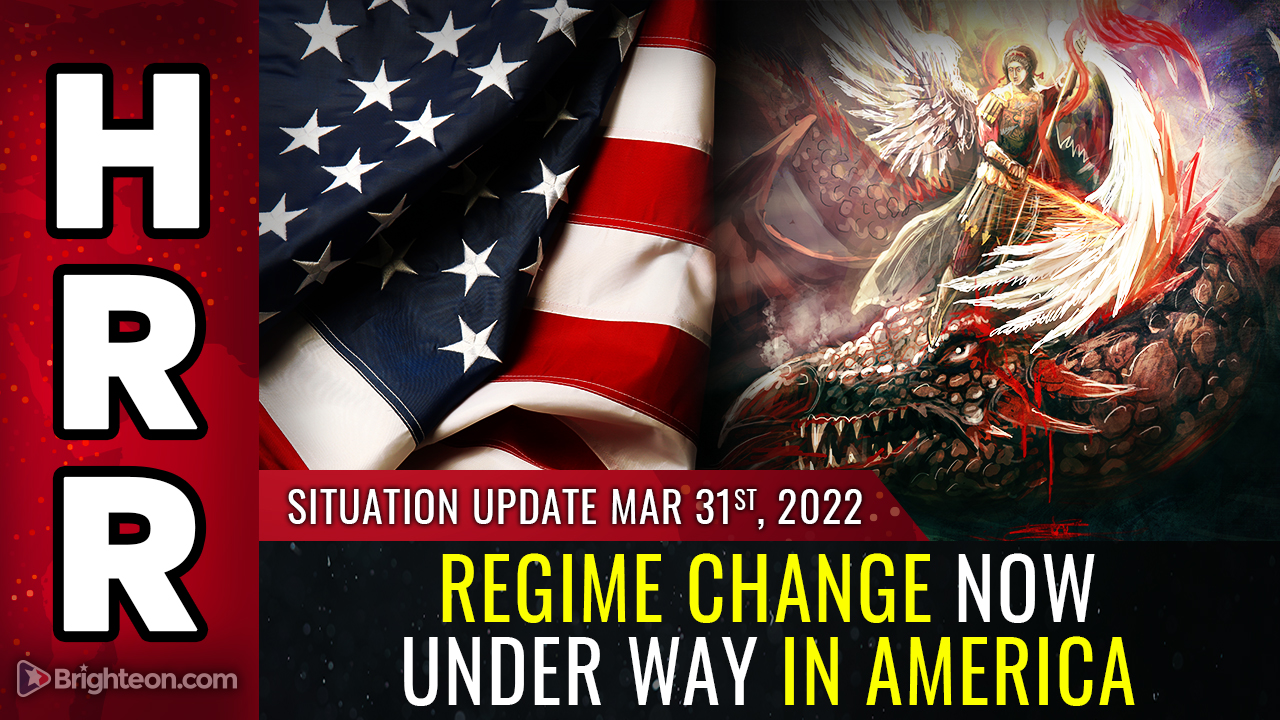 And, finally, speculation from Mike Adams, the Health Ranger, of regime change,

REGIME CHANGE now under way in the USA: Biden on the chopping block as intelligence community activates emergency self-preservation actions
healthranger, Citizens news, 2022-03-31
(Excerpt only)
Yesterday, the Washington Post and CNN took action that confirmed all this, running bombshell stories that exposed details from Hunter Biden's "laptop from hell." In essence, the CIA ordered the Washington Post to start exposing the Biden crime family.
This is all being done in preparation for Biden's removal from power.
As Zero Hedge wrote yesterday, "Hunter Biden Dam About To Burst? WaPo, CNN Go Scorched Earth Over 'Laptop From Hell'": Two weeks ago, the New York Times confirmed the laptop exists, and is legit – and confirmed several previously reported aspects of the story, including correspondence between Hunter and his business partner Devon Archer, both of whom served on the board Ukrainian energy giant Burisma.
Today, the Washington Post and CNN are piling on – with the post confirming yet-more details of the laptop contents, and CNN running a blistering segment and reporting that the federal investigation into Hunter is 'heating up.'