Today, Dec. 18, 2021
December 18, 2021 by Steve Beckow

My thanks to Len, D, and Brian, the fruits of whose research make up these pages
---
Two views of Washington State. Thanks to Sitara for the first.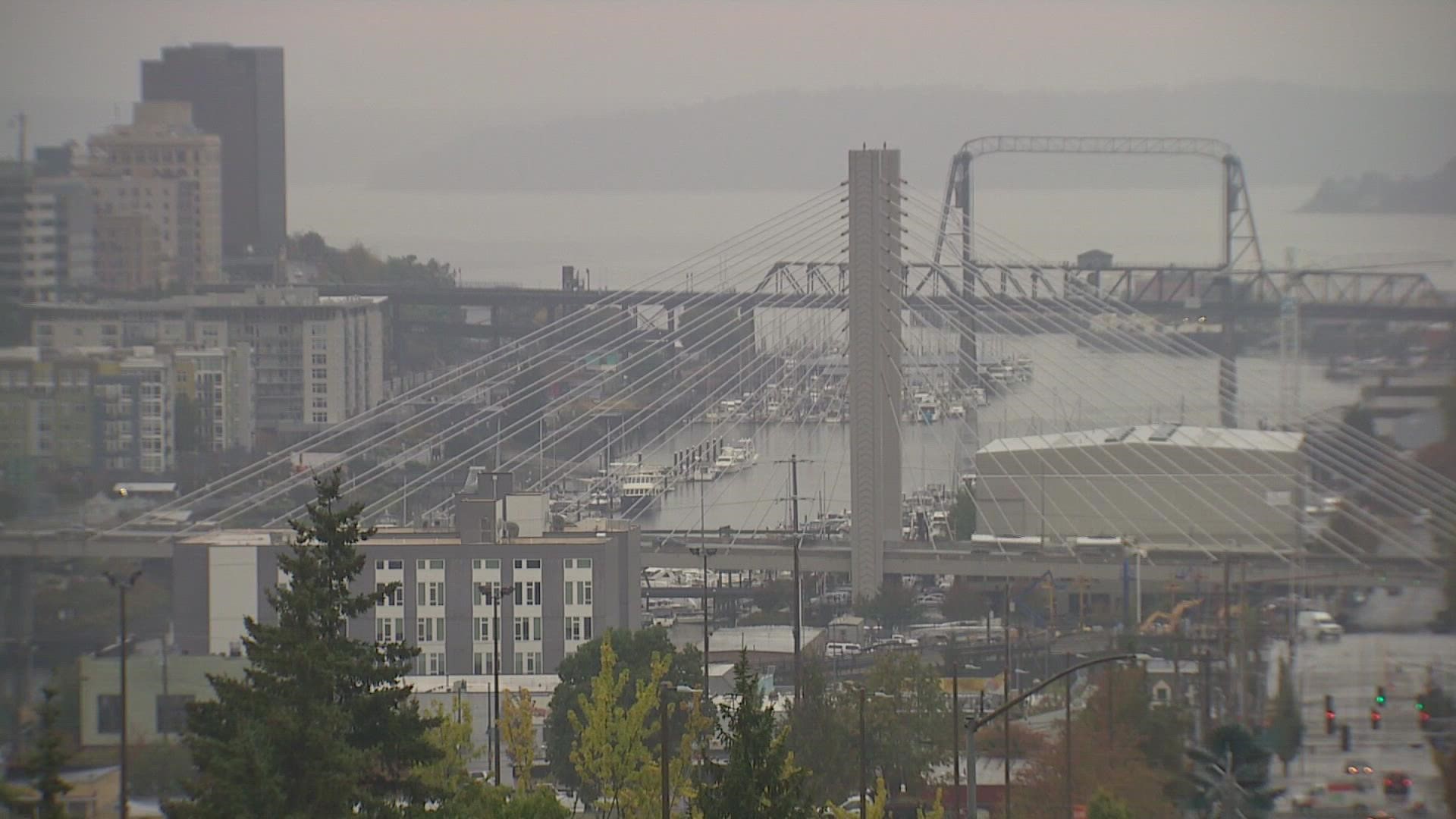 Tacoma's universal basic income pilot program starts with 110 families
Tacoma debuts a pilot program to provide Universal Basic Income to over a hundred families for 12 months.
Lionel Donovan (KING News), December 15, 2021(https://www.king5.com/article/news/local/tacoma/tacomas-universal-basic-income-pilot-program-starts-with-110-families/281-bfa9e22c-4d6c-41eb-8bc1-3242b2c4f03a)
TACOMA, Wash. — Researchers are hoping to have a better understanding of the impact of universal basic income by this time next year.
Starting Wednesday, $500 will be given to 110 families in Tacoma over the next 12 months.
Dona Ponepinto, president and CEO of United Way of Pierce County, said researchers will be following the chosen families during that time to see how the money is being spent. The program will hopefully demonstrate how impactful guaranteed income can be for families who need extra help and provide lawmakers with more context to, Ponepinto said.
"Our hope is that enough data is collected that'll inform those policies at the state and federal level that also impact people that're below the poverty line," Ponepinto said.
The program focuses on families who fit the ALICE standard, which are households that are technically above the poverty line, but still don't make enough to support themselves.
Abigail Lawson, who serves as the director for Tacoma's Growing Resilience in Tacoma) GRIT program, said giving the money with no restrictions on how it's spent is an important point because it would illustrate how effective guaranteed income can be in addressing people's needs.
"The reason that we're doing this is to have a more well-rounded understanding of how guaranteed income is doing in our community, potentially highlighting the greatest need in our community, and just showcasing the agency they'll have over there dollars that they'll receive," Lawson explained.
So how much will this cost Tacoma?
Mayor Victoria Woodards said $100,000, which would cover administrative costs. The rest comes from Woodards' connection to national organizations, along with fundraising from local businesses and community organizations.
"This investment will really change the trajectory of people's lives in our community and we are grateful for that," Woodards said.
Pierce County Councilmember Ryan Mello supports the program, hopes that community members see its value and that helping those who're struggling right now benefits everyone in the long run.
"It helps all of our economic security. Folks spend most of these dollars every month – they live month to month – that money gets recycled back into our local economy, those local small businesses and services," Mello said. "It is so much cheaper and more humane to keep someone out of homelessness than it is to help someone come out of homelessness once they've fallen into it."
---
No Vax, No Food: Spokane Christmas Food Pantry Requires Proof of Vaccination or COVID Test to Get Food
(https://tinyurl.com/2p835vy8)
In Spokane, they're turning people away from the Christmas Bureau food assistance.
People in need have to show proof of Covid-19 vaccination or proof of a negative COVID test no more than 72 hours old.
If you don't have the vax or show proof of a COVID test you are turned away.
When you're hungry the last thing you're thinking about is a COVID vax.
The Christmas Bureau is an annual holiday assistance program coordinated by Catholic Charities Eastern Washington, Volunteers of America, and the Spokesman-Review. The program is made possible by generous monetary funds and volunteer hours donated by community members and organizations.
---
San Francisco Mayor Declares State of Emergency in Response to Drug Overdose Deaths
Staff, Resist the Mainstream, Dec. 17, 2021
(https://resistthemainstream.org/democratic-mayor-declares-state-of-emergency/)
San Francisco Mayor London Breed on Friday declared a state of emergency in the city's Tenderloin neighborhood, an area that sits near City Hall and that officials have long said is rampant with drugs and crime in response to overdose deaths.
The policy came days after Breed promised an aggressive crackdown on crime in the city in which she specifically cited the Tenderloin as an area plagued by open-air drug dealing, crime and unsanitary conditions on the streets.
Advertisements
"There is clearly in the Tenderloin community, with the conditions of not just the people in the streets, but the people living there and the people suffering that we are in a crisis and we need to respond accordingly," she said at a news conference Friday. "Too many people are dying in this city, too many people are sprawled all over our streets."
The declaration would expedite emergency programs by waving zoning and planning codes – in effect cutting through red tape – in an effort to open sites "where people with substance use issues can receive behavioral health services and get off the street," a city news release said.
It must be ratified by the Board of Supervisors within seven days and will exist for no longer than 90 days.
Advertisements
In 2020, the city experienced 700 drug overdose deaths, Breed said. She said more than 600 people have died from an overdose this year, FOX 2 San Francisco reported.
On Tuesday, she announced a series of crime-fighting initiatives to combat a wave of organized retail thefts, crime and the sale of stolen goods. She noted that San Francisco is a compassionate city but "not a city where anything goes."
During her initial announcement earlier this week, Breed called for more funding for police. On Friday, she noted that the city spends more on social services in the Tenderloin than in any other community.
"We are losing over two people a day to drug overdoses, mostly to fentanyl, and mostly in the Tenderloin and SoMa (South of Market), Supervisor Matt Haney, who represents the Tenderloin, said in a statement. "We need an emergency response for drug overdoses, with immediate rapid crisis intervention, outreach and coordination on our streets, with expanded treatment and detox. We have to act now with everything we have to save lives."
This is an excerpt from Fox News.
---
CDC Panel Raises Concerns Over Vaccine-Induced Myocarditis in Children Age 5-11 Who Received Pfizer COVID Vaccine
Julian Conradson, Gateway Pundit, December 17, 2021
(https://tinyurl.com/4t3bwz6a)
After less than two months since the FDA approved the experimental covid-19 vaccine for children aged 5-11 on October 26th, Eight cases of myocarditishave been reported in children aged 5-11 after taking the Pfizer jab, according to CDC officials.
On Thursday, the CDC Vaccine Advisory Panel held an online meeting to discuss the safety of the Johnson & Johnson vaccine because of numerous reports that it was causing a life-threatening blood clotting condition.
During the meeting, officials also raised concerns over myocarditis developing in young children, noting that the US Vaccine Adverse Events Reporting System (VAERS) had already received several records of the serious heart condition developing in 5-11-year-olds.
In all, VAERS already shows a total of fourteen cases of the disease have been reported in this age group, of which just eight – four boys and four girls – were counted as meeting the agency's official criteria to validate the report. Two of the confirmed cases occurred after the child had received the first dose of the vaccine, while the other six developed the condition following their second jab.
The fact that there have been so many cases entered into VAERS in such a short time is especially troubling.
Despite this, just one out of the eight myocarditis reports is currently being looked at by the CDC, according to the advisory panel.
The cases of myocarditis are not the only adverse events that have been reported to officials from this age group and according to VAERS, there are tens of thousands of others.
CDC Officials stated that as of the database's most recent update on December 12th, 41,232 reports were filed for individuals aged 5-11 who had taken the Pfizer vaccine – 23,583 of which were double-jabbed.
While most of the reports were of mild reactions like pain at the injection site or headaches and fatigue, roughly 10 percent of the reports indicated that the experimental jab had left them "unable to attend school" and about 5 percent said that they were incapacitated to the point that they were "unable to perform daily activities.
What's even more concerning is that the adverse events were even more likely to develop following a second jab, especially the more serious ones. Similar to how myocarditis cases tripled after taking the second jab, the number of reports that claimed the vaccine had left them incapacitated doubled to 10%.
That is A LOT of young, otherwise healthy children suffering in order to stave off a virus that is effectively no risk to them – not to even mention the fact that the experimental vaccine does not provide immunity from catching the virus.
And keep in mind, 5-11-year-old children have only been eligible to take the Pfizer vaccine since October 26th, which was just 52 days ago.
In addition to all of the other reports, there have even been TWO reported deaths in children who received the vaccine – a 5-year-old girl who had a "complicated medical history" but was given the experimental jab anyway, and a 6-year-old girl who also had medical issues.
Both deaths are currently under review by health officials.
The full video of the CDC Advisory Panel's meeting can be watched here.
This new VAERS data is just the latest evidence that these experimental mRNA vaccines may pose more of a risk than the virus for a large number of people, particularly children and young people who have a 99.995% recovery rate – The fact that CDC and other health officials continue to downplay or ignore anything that doesn't fit the narrative, is downright criminal.
Pfizer's OWN DATA from the beginning of the vaccine rollout in early 2020 even showed that there were over 1,200 deaths after taking the vaccine within the first 90 days of it being available.
Nevertheless, the FDA went ahead and extended the EUA for their vaccine anyway.
Despite all of the red flags, the tyrannical bureaucrats, under the direction of Dr. Mengle Fauci, dutifully continue their authoritarian agenda to jab a needle into the arm of every American.
---
FDA Strengthens Warning Over Severe Condition Linked to Johnson & Johnson's COVID-19 Vaccine
Staff, Resist the Mainstream, December 15, 2021
(https://resistthemainstream.org/fda-strengthens-warning-over-severe-condition-linked-to-johnson-johnsons-covid-19-vaccine/?utm_source=newsletter2)
U.S. drug regulators this week formally strengthened a warning to Americans regarding a severe condition linked to Johnson & Johnson's COVID-19 vaccine.
Blood clots and low blood platelet levels, known as thrombosis with thrombocytopenia syndrome (TTS), are now listed as a contradiction, or a medical reason for somebody not to get the shot.
"Do not administer" the vaccine to individuals with a history of the set of conditions following the vaccine or any other adenovirus-vectored COVID-19 vaccine, the Food and Drug Administration (FDA) says in an updated fact sheet (pdf) for health care providers administering vaccines.
TTS has been reported in "a wide range of individuals 18 years and older" since administration of the Johnson & Johnson (J&J) vaccine began earlier this year, regulators say.
The highest reporting rate, approximately 1 case per 100,000 doses administered, has occurred in women aged 30 to 49.
About 15 percent of the TTS cases have been fatal.
"Currently available evidence supports a causal relationship between TTS and the Janssen COVID-19 Vaccine," the FDA says in its updated fact sheets.
Janssen is a subsidiary of J&J.
J&J did not respond to a request for comment.
In the spring, U.S. health officials recommended a nationwide pause in administration of the vaccine due to TTS cases appearing among people who had gotten it.
The pause was lifted in April.
The FDA and Centers for Disease Control and Prevention (CDC) said at the time that officials were confident the vaccine was safe and effective in preventing COVID-19.
The FDA said that the available data showed the known and potential benefits outweigh its known and potential risks.
Paul Stoffels, J&J's chief scientific officer, said when the pause was lifted that the company would work with health authorities worldwide "to educate health care professionals and the public to ensure this very rare event can be identified early and treated effectively."
More recently, a Mayo Clinic study found J&J vaccine recipients had a higher risk of blood clots.
Three COVID-19 vaccines are available for use in the United States. J&J's is by far the least used. Just 17.2 million doses have been administered as of Dec. 15, compared to 185.8 million doses of Moderna's vaccine and 283 million doses of the Pfizer-BioNTech vaccine.
A Mayo Clinic study in November found J&J vaccine recipients had a higher risk of blood clots when compared to recipients of the other two shots.
Currently, there are no restrictions in place on administration of the J&J jab.
The two contraindications, TTS and severe allergic reaction, typically only apply once a person has suffered an adverse event.
The CDC's vaccine advisory panel is meeting Thursday to hear presentations from the CDC on J&J's vaccine.
This is an excerpt from The Epoch Times.
---
Biased, sensationalist language. Reader discernment is advised.
Panic? US Mega-Corporations Rush to Abandon Vax Mandate
Daniel McAdams, Ron Paul Institute, December 10, 2021
(http://www.ronpaulinstitute.org/archives/featured-articles/2021/december/10/panic-us-mega-corporations-rush-to-abandon-vax-mandate/)
This week's nationwide annihilation of Biden's Federal Contractor vaccine mandate at the hands Georgia Federal Judge R. Stan Baker has resulted in a landslide retreat of cowardly mega-corporations from their so-confident bullying of American workers.
Biden's illegal gamble, the nationwide Federal contractor vaccine mandate, has like his previous Medicare mandate and OSHA if-you-have-100-workers-mandatory-vax mandate been ripped to shreds early on in the courts.
Biden's mandates have always been a bullying gamble, an admission that they knew they were engaging in illegal acts but that they would continue to use the not-insignificant weapons of the executive branch to blast as much harm as possible until the courts stepped in and noted the obvious: "You can't do this!"
Cynics – and I sympathize – will say that the courts could have ruled either way so don't get too excited.
That's the lesson of the past two years: There is nothing below us as we look down. It takes our breath away. We now understand that our civilization has been built on a pile of sand and any determined entity could tunnel under us as we are distracted by the human necessities of providing for our families and living our finite lives as best as possible.
This horrible reality cannot be unseen.
Previously we viewed our rulers – from dog catcher to president – as malevolent but for the most part at a distance. We never thought they would reach out with their gradually but steadily-acquired iron fist and squeeze the oxygen from our lungs: "Take a shot or starve!"
The Hungarians in early 1918 similarly were shocked that living somewhat silently among them were aliens who would activate themselves at the exact most fertile moment and literally up-end their somnambulant state, imposing "mandates" on their society that included mobile gallows – a crude earlier form of the forced vax.
With the welcome disintegration of this evil government decree – via Judge Baker's ruling that the contractor mandate is illegal – one by one the mega-corporations also see their position as shifting to the untenable. They are bailing out as fast as possible.
Some 83,000 Florida healthcare workers no longer face being kicked to the street by US government-sponsored terrorism, until this week dutifully enforced by the "free market" prostitutes in bed with the state.
As hero Alex Berenson has reported Thursday, mega corporations in the US are also suddenly looking under themselves and finding that they are alone. No more government guns aimed at the powerless…at least for the time being.
General Electric, 3M, Verizon, and Oracle have in the past day or so hedged their bets and snuck out of bed with the US government: no more vax requirements! We are talking about a large group of people no longer bound by the brotherhood of the needle.
We are winning this for now and should pause to drink it in.
But at the same time we must also look at what has rotted in our civilization that would allow such a force to upend us, to unleash this iron fist once hidden in a velvet glove. Life will never be the same knowing what these people have done to us. They must never be allowed to forget it.
---
Russian Moon Shot?
From Ben Fulford.
(https://benjaminfulford.net/wp-content/uploads/2021/12/russian-moon-shot.jpeg)
---
UK Team File Complaint of Crimes Against Humanity With The International Criminal Court
Patricia Harrity, The Expose, December 10, 2021
(https://dailyexpose.uk/2021/12/10/uk-team-file-complaint-of-crimes-against-humanity-with-the-international-criminal-court/)
A complaint has been filed with the Prosecutor of the International Criminal Court on December 6th, 2021 by a team from the UK on behalf of the people. They are alleging crimes committed by UK government officials and international world leaders of various violations of the Nuremberg Code, crimes against humanity, war crimes and crimes of aggression perpetrated against the peoples of the UK.
The team who are fighting for justice on behalf of us all state that:
"The seriousness and extent of the crimes committed in the United Kingdom, highlighted by the scope of people that these crimes affect, that these crimes continue to be committed, the wide range of perpetrators, the recurring patterns of criminality and the limited prospects for accountability at the national level, all weigh heavily in favour of an investigation".
The news of the legal complaint has come at a good time for many (source).
The perpetrators as listed on the document. below.
The applicants state that they have tried to raise their case through the local English police and the English Court system without success. The team is represented by lawyer, Hannah Rose, with co-applicants including:
Dr. Mike Yeadon, who is a former vice-President and Chief Scientist of allergy and respiratory research at Pfizer n respiratory pharmacology, former Vice President and Chief Scientist of allergy and respiratory research at Pfizer.
Piers Corbyn – Astrophysicist and activist, retired police officer, Mark Sexton –John O'Loony – Funeral Director and activist, Johnny McStay – Activist and Louise Shotbolt – Nurse and human rights activist
The International Criminal Court
The applicant's state that they have tried to raise their case through the local English police and the English Court system without success
This is exactly why the ICC has been addressed directly as if a state is unwilling or unable to carry out either an investigation or prosecution, the ICC is able to prosecute, not to replace national crime systems, but to complement them.
The team of applicants has provided the ICC with documentation detailing numerous claims which amount to violations of the Nuremberg Code, Crimes against humanity, war crimes, and crimes of aggression in the United Kingdom.
Within the complaint, the team argues that "based on the extensive claims and enclosed documentation, we charge those responsible for numerous violations of the Nuremberg Code, crimes against humanity, war crimes and crimes of aggression in the United Kingdom, but not limited to individuals in these countries".
The applicants state that "It is our intention to present to you and detail how, in the United Kingdom this year, the Government of the United Kingdom, with its Ministers and senior officials have violated the Nuremberg Code not only in a single aspect but in many aspects".
Inflated Covid figures
Through providing an over ten-thousand-word document, the team has gathered extensive evidence that are areas of concern have occurred under the guise of measures or interventions for the prevention of a "virus."
A particularly notable and important area addressed within this documented complaint, is the fact that the number of covid-19 cases has been artificially inflated due to the inaccuracy and unreliability of the PCR testing.
Arguably, without these inflated figures, there would have been no need for the other measures and interventions that are now be classed as crimes against humanity.
The team highlight the fact that a covid death is recorded if an individual died for any reason within 28 days of a positive Covid-19 test (that was confirmed with the inaccurate and unreliable PRC tests).
"These deaths are being recorded as Covid-19 regardless of whether Covid-19 was the factual cause of death"
The Rebranding of Flu, Pneumonia, and Respiratory Infections.
Additionally, another way the Covid-19 statistics have been artificially inflated is by the 'rebranding' of the common influenza, pneumonia, and other respiratory infections as covid -19. The applicants cited data from the ONS which showed that deaths in 2018 from influenza and pneumonia amounted to 29,516 and in 2019, was 26,398.
However, deaths in 2020 for influenza were recorded at just 394 and pneumonia at 13,619.
The documentation also highlights that a freedom of Information request (FOI) shows us that between March and June 2020 the total number of Covid-19 related deaths in England and Wales with no pre-existing health conditions was 4,476.
This argument was further strengthened by John O'loony, a joint applicant on this request is a funeral director running his own funeral home in Milton Keynes. As a funeral director, Mr. O'loony testified that he saw a massive effort made to deliberately inflate Covid death numbers. Cancer patients and stroke victims and even one guy that was run overall ended up with Covid on their death certificate'.
Requesting a Full Investigation
All areas that were arguably a result of the overinflated cases were included in the document to either add weight to the complaint with factual evidence or occurrences or to request a full investigation into particular areas.
Warranting a full investigation, for example, are the vaccinations that are "an innovative medical treatment" that has only received temporary Authorisation.
The vaccines are still in ongoing Phase 3 trials which are not due to conclude until late 2022/early 2023, therefore, the vaccines are experimental meaning there is limited data for the short term and no long-term safety data available.
Additionally, the use of a new, never been approved for human use, mRNA vaccine technology, which is effectively a pro-drug, means that it is not known how much spike protein any individual will produce. The applicants argue, therefore, that "potential late-onset effects can take months or years to become apparent
The Inclusion of Graphene Hydroxide
Also warranting a full investigation according to the team is the inclusion of graphene hydroxide and the alleged assassination of Dr. Andreas Noack, after his video revealing its presence in the vaccines
Dr Andreas had explained what graphene hydroxide was and how the nanostructures injected into the human body act as 'razor blades' inside the veins of 'vaccine' recipients and that due to the size of the structures they were unable to show up in autopsies. According to the applicants, "toxicologists can't imagine that there are structures that can cut up blood vessels causing people to bleed to death on the inside so they would not be looking for them, given their atomic size".
Other Areas and Parallels to 1930s Germany
The team also includes arguments relating to the ineffectiveness of masks, saying that even the World Health Organisation (WHO) has admitted that there is no evidence available on the usefulness of masks to protect non-sick individuals. They also highlight the Alternative treatments that have been ignored, the Censorship, and that the UK government and governments around the world are using the 'pandemic' to crack down on free expression and access to information and alarming Parallels to 1930's Germany as told by Holocaust survivors
There are several survivors of the German Holocaust drawing stark parallels between Covid restrictions and the beginning of the Holocaust. These together with other areas included in the complaint which can be found here are according to the applicants provide "a reasonable basis to believe that violations of the Nuremberg Code, genocide, crimes against humanity, and war crimes have been committed"
The document concludes with a strong request:
"WE WANT TO REPEAT: It is of the utmost urgency that ICC take immediate action, taking all of this into account, to stop the rollout of covid vaccinations, introduction of unlawful vaccination passports and all other types of illegal warfare mentioned herein currently being waged against the people of the United Kingdom by way of an IMMEDIATE court injunction".
The filing offers hope in a never-ending saga of harmful deception. The documentation is both interesting and very educational, please find the complete document here (source).
A heartfelt thank you from all of us and Good luck to Hannah Rose and the team!
---
---