Today, Dec. 16, 2021
December 16, 2021 by Steve Beckow

My thanks to Len, D, and Brian, the fruits of whose research make up these pages
---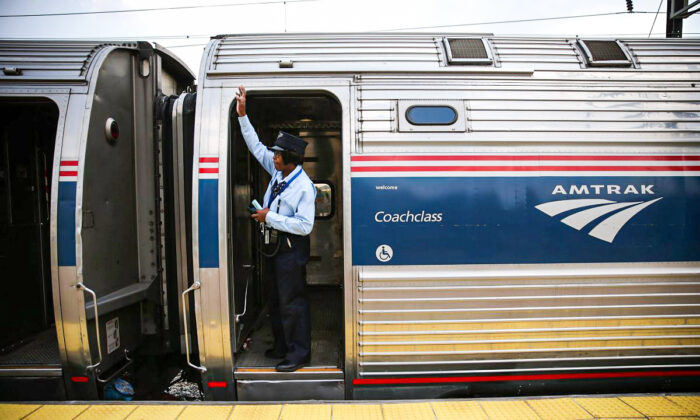 Amtrak Suspends COVID-19 Vaccine Mandate for Employees: Chief Executive
Jack Phillips, Epoch Times, December 14, 2021
(https://www.theepochtimes.com/amtrak-suspends-covid-19-vaccine-mandate-for-employees-chief-executive_4157319.html)
Passenger railroad operator Amtrak said Tuesday it will suspend its COVID-19 vaccine mandate for employees and no longer expects service disruptions in January.
Amtrak Chief Executive Bill Flynn said in a memo obtained by The Epoch Times that employees who aren't vaccinated can get tested instead. Fewer than 500 Amtrak workers are unvaccinated, he said.
Informing Amtrak's decision was a recent federal court order that "halted the enforcement of the executive order for federal contractors" which caused the firm to reevaluate its policy toward vaccine mandates, Flynn wrote.
It means Amtrak will revert back to its original vaccine mandate that it announced in August, which allows for regular testing of unvaccinated workers, Flynn said. That will allow "for testing as an alternative to getting vaccinated," the memo said.
The memo added that Amtrak employees "required to submit to testing and fail to do so will be placed on an unpaid leave of absence initially."
Amtrak, a quasi-public corporation that receives some federal dollars, was slated to terminate the employment of about 500 unvaccinated workers next month and anticipated service cuts. Amtrak president Stephen Gardner testified during a House hearing last week that he expected cuts because the railroad operator didn't have enough staff to operate all its trains.
But with Tuesday's decision, the service cuts can be averted, Flynn said.
"After reviewing our system service plans in light of these changes, we do not anticipate having system-wide service impacts in January," Flynn said.
Flynn added his company "will continue to update its vaccine policy as needed and follow the latest health and safety guidance. We believe these most recent changes are both appropriate and prudent, given the recent court decision and the continuing and evolving pandemic."
When asked for comment on Amtrak's decision on Tuesday, White House press secretary Jen Psaki told reporters that the vast majority of workers have been vaccinated. "They're trying to work to ensure that there are adequate employees on the job," she said.
Meanwhile, industry leaders hailed Amtrak's decision to reverse its vaccine mandate.
"Amtrak is doing the right thing," Jim Mathews, president and CEO of the Rail Passengers Association, said in a statementto news outlets. "This addresses the issue without compromising safety. Everyone—crews and passengers—is safest if everyone is vaccinated. But Amtrak reached huge numbers of vaccinations within their staffs, and that's to their credit."
Congress approved $66 billion for railroads as part of an infrastructure bill that was passed several weeks ago, and Amtrak will receive $22 billion and $36 billion for competitive grants. But Amtrak saw demand fall during the COVID-19 pandemic and is seeing around 70 percent of pre-pandemic demand, Gardner told the House panel last week.
---
---
Canadian Province of Ontario to Keep Vaccine Passports Indefinitely
Hit graphic to watch video
(https://hooktube.com/PaYY0lFEMaI)
---
FDA Asks Federal Judge Permission Not To Release Pfizer COVID Vaccine Data Until 2096
Arjun Walia, The Pulse, December 14, 2021
(https://thepulse.one/2021/12/14/fda-asks-federal-judge-permission-not-to-release-pfizer-covid-vaccine-data-until-2096/)
The many academics, healthcare workers, physicians and scientists who represent Public Health and Medical Professionals for Transparency (PHMPT) have sued the Food & Drug Administration (FDA) for not releasing Pfizer COVID-19 vaccine data.
PHPMT is a not for profit organization that exists solely to obtain and disseminate the data relied upon by the FDA to license COVID-19 vaccines. The organization takes no position on the data other than that it should be made publicly available to allow independent experts to conduct their own review and analyses.
So far the group has been able to obtain a small percentage of documents that the FDA never made public regarding Pfizer COVID-19 vaccine data. The documents reveal that Pfizer was aware of 1,223 possible vaccine related deaths during the first 3 months of the initial vaccine rollout, as well as more than 50,000 serious adverse reactions.
A court order forced them to comply and begin releasing these documents. A joint court order explains that the FDA has proposed to produce 500 pages per month. Based on its calculated number of pages, this would mean that it would complete its production in nearly 55 years, in 2076. But the FDA has doubled down, and is now requesting to have until 2096 to produce the Pfizer documents, which would be a total of at least 75 years.
Each side gets to file response briefs on December 13, 2021, and then there is oral argument on December 14, 2021 before the Judge.
Aaron Siri, Managing Partner of Siri & Glimstad, the firm representing PHMT, has extensive complex civil litigation experience including civil rights involving mandated medicine. He explains,
Other than producing an initial 12,000 pages in around two months, the FDA thereafter only wants to commit to producing 500 pages per month. The FDA also disclosed that it actually has approximately at least 451,000 pages to produce.

And if you find what you are reading difficult to believe – that is because it is a dystopian for the government to give Pfizer billions, mandate Americans to take its product, prohibit Americans from suing for harms, but yet refuse to let Americans see the data underlying its licensure. The lesson yet again is that civil and individual rights should never be contingent upon a medical procedure.
Until this entire body of documents provided by Pfizer to the FDA is made publicly available, an appropriate analysis by independent scientists cannot be done. These independent, world-renowned scientists should be provided the same documents that the FDA was able to review.
Why would documents pertaining to Pfizer's COVID-19 be kept confidential? How does this help the citizenry and independent doctors and scientists? Why wouldn't vaccine data be totally transparent for the world to see?
---
Dr. Robert Malone, the inventor of mRNA technology on why you should not "vaccinate" your child with Covid mRNA "vaccines." (4 minutes, 34 seconds)
---
US hospitals: fraud, murder, cash; federal assassination-for-hire program
Jon Rapoport, Dec. 14, 2021
(https://blog.nomorefakenews.com/2021/12/14/us-hospitals-fraud-murder-cash-federal-assassination-for-hire-program/)
"Attorney Thomas Renz and CMS [Centers for Medicare & Medicaid Services] whistleblowers have calculated a total [federal] payment [to hospitals] of at least $100,000 per [COVID] patient."
by Jon Rappoport
December 14, 2021
The Association of American Physicians and Surgeons, a private medical organization founded in 1943, has the story — "Biden's Bounty on Your Life: Hospitals' Incentive Payments for COVID-19" (11/17/21), authored by Elizabeth Lee Vliet, M.D. and Ali Shultz, J.D.
Here are stunning excerpts:
_______________________________
"Upon admission to a once-trusted hospital, American patients with COVID-19 become virtual prisoners, subjected to a rigid treatment protocol…for rationing medical care in those over age 50. They have a shockingly high mortality rate…"
"As exposed in audio recordings, hospital executives in Arizona admitted meeting several times a week to lower standards of care, with coordinated restrictions on visitation rights. Most COVID-19 patients' families are deliberately kept in the dark about what is really being done to their loved ones."
"The combination that enables this tragic and avoidable loss of hundreds of thousands of lives includes (1) The CARES Act, which provides hospitals with bonus incentive payments for all things related to COVID-19 (testing, diagnosing, admitting to hospital, use of remdesivir and ventilators, reporting COVID-19 deaths, and vaccinations) and (2) waivers of customary and long-standing patient rights by the Centers for Medicare and Medicaid Services (CMS)."
"In 2020, the Texas Hospital Association submitted requests for waivers to CMS. According to Texas attorney Jerri Ward, 'CMS has granted "waivers" of federal law regarding patient rights. Specifically, CMS purports to allow hospitals to violate the rights of patients or their surrogates with regard to medical record access, to have patient visitation, and to be free from seclusion.'…The purported waivers are meant to isolate and gain total control over the patient and to deny patient and patient's decision-maker the ability to exercise informed consent."
"Creating a 'National Pandemic Emergency' provided justification for such sweeping actions that override individual physician medical decision-making and patients' rights. The CARES Act provides incentives for hospitals to use treatments dictated solely by the federal government under the auspices of the NIH. These 'bounties' must paid back if not 'earned' by making the COVID-19 diagnosis and following the COVID-19 protocol."
"The hospital payments include:
* A 'free' required PCR test in the Emergency Room or upon admission for every patient, with government-paid fee to hospital.
* Added bonus payment for each positive COVID-19 diagnosis.
* Another bonus for a COVID-19 admission to the hospital.
* A 20 percent 'boost' bonus payment from Medicare on the entire hospital bill for use of remdesivir instead of medicines such as Ivermectin.
* Another and larger bonus payment to the hospital if a COVID-19 patient is mechanically ventilated.
* More money to the hospital if cause of death is listed as COVID-19, even if patient did not die directly of COVID-19.
* A COVID-19 diagnosis also provides extra payments to coroners."
"CMS implemented 'value-based' payment programs that track data such as how many workers at a healthcare facility receive a COVID-19 vaccine. Now we see why many hospitals implemented COVID-19 vaccine mandates. They are paid more."
"Outside hospitals, physician MIPS [Merit-based Incentive Payment System] quality metrics link doctors' income to performance-based pay for treating patients with COVID-19 EUA drugs. Failure to report information to CMS can cost the physician 4% of reimbursement."
"Because of obfuscation with medical coding and legal jargon, we cannot be certain of the actual amount each hospital receives per COVID-19 patient. But Attorney Thomas Renz and CMS whistleblowers have calculated a total payment of at least $100,000 per patient."
"There are deaths from the government-directed COVID treatments. For remdesivir, studies show that 71–75 percent of patients suffer an adverse effect, and the drug often had to be stopped after five to ten days because of these effects, such as kidney and liver damage, and death. Remdesivir trials during the 2018 West African Ebola outbreak had to be discontinued because death rate exceeded 50%. Yet, in 2020, Anthony Fauci directed that remdesivir was to be the drug hospitals use to treat COVID-19, even when the COVID clinical trials of remdesivir showed similar adverse effects. In ventilated patients, the death toll is staggering. A National Library of Medicine January 2021 report of 69 studies involving more than 57,000 patients concluded that fatality rates were 45 percent in COVID-19 patients receiving invasive mechanical ventilation, increasing to 84 percent in older patients. Renz announced at a Truth for Health Foundation Press Conference that CMS data showed that in Texas hospitals, 84.9% percent of all patients died after more than 96 hours on a ventilator."
"Then there are deaths from restrictions on effective treatments for hospitalized patients. Renz and a team of data analysts have estimated that more than 800,000 deaths in America's hospitals, in COVID-19 and other patients, have been caused by approaches restricting fluids, nutrition, antibiotics, effective antivirals, anti-inflammatories, and therapeutic doses of anti-coagulants."
—end of article excerpt—
_______________________________
This is basically a federally incentivized protocol for murder.
To say it violates every code of medical ethics would be a vast understatement.
Cash for death.
There are MANY doctors and nurses who work in these hospitals who know what they're doing, who know they're following orders that result in the deaths of their patients; but they keep doing it.
They would rather murder their patients than lose their jobs.
And there are MANY employees at the FDA, NIH, and other public health agencies who also know the score, keep their heads down, and facilitate murder.
There are MANY so-called journalists who work at mainstream outlets who know what's going on and say nothing.
Mass murder is central to the overall COVID program. But feel free to think that the vaccine, on the other hand, is pure and safe and essential. The people running the show just want to kill some and save others. Sure, that makes perfect sense.
If they're all schizophrenic messiahs-and-killers and you're schizophrenic for believing in them.
---
Barbados primed for huge shake-up of tax system after breaking from Royal Family
BARBADOS is gearing up for an overhaul of its system for a universal basic income, a fortnight after they became the newest republic in nearly three decades.Ellie Cook, Expresss, UK, Dec 14, 2021 (https://www.express.co.uk/news/royal/1536151/Royal-Family-news-barbados-tax-system-basic-universal-income-queen-republic)
A Barbados official has suggested that the universal basic income could materialise as a "citizen's dividend". Avinash Persaud, the Prime Minister of Barbados's Special Envoy on Investment and Financial Services, took to Facebook to hint at these plans which will build on the country's pre-existing social infrastructure. Barbados's current reverse tax credit is the country's "first foray" into a universal basic income, according to Mr Persaud.
The reverse tax credit kicks in to add funds to a person's salary if it does not reach a certain threshold.
Universal basic incomes guarantee each citizen in a country a certain quantity of money at determined points.
Mr Persaud raised the possibility that the "citizen's dividend may be combined with the annual reverse tax credit to form some kind of universal basic income", according to Barbados Today.
He said that Barbados's Sovereign Wealth Fund will be adapted to make the Barbadian government's assets "work for all Barbadians".
Prince Charles visited Barbados for the marking of it becoming a republic (Image: PA)
He added that a slice of the income generated each year could be returned to the people of Barbados through a new initiative.
The principle of a citizen's dividend is based on the idea that each and every citizen is entitled to profit from the successes of common resources.
He said: "The idea is that some of the income produced every year would be given back to all citizens over the age of 18, perhaps in the form of a citizen's dividend.
"Over time the citizen's dividend and reverse tax credit could form the basis of a universal basic income and create a greater sense of belonging to all of our people.
Avinash Persaud is the Barbadian Prime Minister's Special Envoy on Investment and Financial Services (Image: Getty)
Prince Charles made a speech at the ceremony (Image: Getty)
"We welcome other practical, effective ideas on how to achieve this goal quicker."
He continued: "Barbados' highly innovative reverse tax credit, introduced by the Owen Arthur Administration – the envy of many developed countries – was the first [foray] into a universal basic income. That was long the objective.
"Under the reverse tax credit, if your income is not above some basic level, the Government will top it up with a payment or reverse tax credit."
"This is one of the practical ways a developing country could quickly get to the universal basic income. Therefore, it was regrettable that in 2016- 2017, the last Government stopped paying it – they said they had no money. But everything is a tradeoff."
There was some opposition to Prince Charles's attendance (Image: Getty)
Mr Persaud also praised the decision taken in 2018 to offer free higher education in Barbados, lauding the opportunities for "social mobility" and prosperity.
He said: "We are moving towards universal basic income across three fronts."
He detailed: "Despite all the pressure from international agencies to 'target' we hold the line on universality. That's why we restored free tertiary education for all.
"International studies have shown this is critical to social mobility and opportunity.
"The less well-off cannot take on the payments, risk and worry of getting heavily in debt to secure their future."
This news comes as Barbados became the world's newest republic at the start of December, removing the Queen as head of state and swearing-in Dame Sandra Mason as president.
The Queen's son, Prince Charles, travelled to Bridgetown for the ceremony, addressing the crowd to say: "From the darkest days of our past and the appalling atrocity of slavery, which forever stains our history, people of this island forged their path with extraordinary fortitude."
---
Did the chemtrails pilot make a Q?
Thanks to Karen, who saw it over her lake yesterday.