Today, Dec. 13, 2021
December 13, 2021 by Steve Beckow

My thanks to Len, D, and Brian, the fruits of whose research make up these pages
---
"This is not about health. This is about control. And I have first-hand experience…."
Thanks to D.
Hit graphic to watch video
(https://www.instagram.com/tv/CXVZCfkgEh7/)
---
Australia | Police stations flying national flag upside down … a signal of distress.
Covid19: Alternative Perspectives, Dec 11, 2021
Thanks to clif high Telegram account for this link: https://t.me/s/scifiworld0
(https://covid19alternativeperspectives.wordpress.com/2021/12/11/australia-police-stations-flying-national-flag-upside-down-a-signal-of-distress/)
Reports of police stations raising the Aussie flag upside down are coming in from across the country. If the police side with us, it's all over.
---
Robert F. Kennedy Jr. describes Dr. Fauci's experiments with children to Del BigtreeVideo Player
---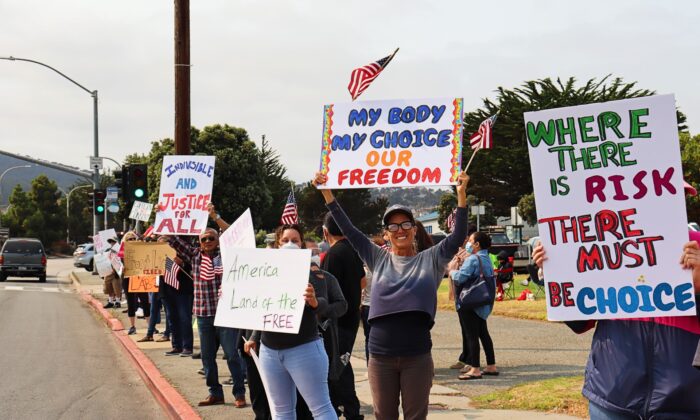 People hold signs calling for freedom of choice during a rally protesting vaccine mandates in Monterey, Calif., on Sept. 26, 2021. (Cynthia Cai/The Epoch Times)
To Comply, or Not to Comply: Virginia State Employee Chooses Termination Over Obedience
Matt McGregor, Epoch Times, October 2, 2021
(https://www.theepochtimes.com/to-comply-or-not-to-comply-virginia-state-employee-chooses-termination-over-obedience_4028360.html?utm_source=ai_recommender&utm_medium=a_bottom_above_etv)
For Nancy Orr, the decision to make her own medical decisions came with a high price.
Getting fired in September from her executive assistant position at Richmond's Library of Virginia wasn't exactly a surprise, however, because, as she told The Epoch Times, she saw it coming.
"Like many people at the beginning of this, I wore a mask, and tried to honor what they were recommending," Orr said.
In December 2020, she had contracted the CCP (Chinese Communist Party) virus, commonly known as the novel coronavirus, the pathogen that causes COVID-19.
Her physician, Leland Stillman, who has now moved his practice (Leland Stillman, MD) from Virginia to Orlando, Florida, had prescribed her ivermectin, which she said reduced her symptoms within hours.
Stillman told The Epoch Times that Orr was one of many patients he had prescribed ivermectin beginning last year, "with great results."
"I still prescribe it to patients because I don't see any downsides, and there are tremendous upsides," Stillman said. "What kind of doctor doesn't prescribe a therapy that he knows is effective, with documented efficacy in the literature, and is safer than Tylenol?"
Orr said she now has lab-verified immunity.
"But that's not recognized under this executive order," Orr said.
In August, Virginia Gov. Ralph Northam enacted an executive order that requires state employees to show proof of vaccination or be tested weekly.
Orr said she stopped wearing the mask months prior because she said, in addition to having natural immunity, wearing the mask causes her respiratory distress, raising her heart rate, which leads to high blood pressure.
To Comply, Or Not To Comply
After having COVID-19, she considered the testing, mask, and vaccine unnecessary for her, but as government guidelines turned into mandates, the ominous choice loomed: to comply, or not to comply.
"I could not in good conscience participate in the process because I see it explicitly as a vaccine passport," Orr said. "They don't have the right to that information. They don't have the right to segregate people based on their medical status, and it's not based on anything scientific because we now know that the fully vaccinated can be infected and transmit the virus."
Privileging people based on their medical status is discriminatory, Orr added.
"It's immoral, unethical, illegal, and unconstitutional," Orr said.
She considered the religious and medical exemption that was available due to her COVID-19-recovered status, but decided against it.
"I just realized that if I chose a medical exemption, I would be validating or even declaring participation by declaring my vaccine status, and it's simply none of their damn business," Orr said. "It's private medical information, and just because someone issues an executive order, that doesn't make it legal, and it certainly doesn't make it moral or ethical."
Americans With Disability Act Defense
Orr said she turned to an individual rights advocacy organization called The Zunga, described by one of its members, John Jay Singleton, as an organization of professionals that provides representation for people to exercise their rights within the framework of the Americans with Disabilities Act (ADA).
According to Singleton on The Zunga's website, "Everyone is regarded as having a disability, being that everyone is regarded as having a contagious disease. This is where it all begins: everyone can express their rights that are being violated through the Americans with Disabilities Act."
Under the COVID-19 protocols, Orr said people are classified as having an infection, which is a qualifying disability under the ADA.
Because of this, she said, if one is deemed disabled, that person has the right to invoke protection under the ADA, which she said means she has the right to decline "any accommodation" that is being offered, such as the testing, masks, and vaccines.
Using templates and guidance from her membership with The Zunga, she filed a complaint of discrimination against the Library of Virginia and the Equal Employment Opportunity Commission.
"There is an active investigation," Orr said. "I will also be filing a federal lawsuit for wrongful termination, discrimination, and retaliation based on the disability they regarded me as having, which resulted in the termination of my employment."
At 63 years old, Orr said she had planned on working at the library until she retired.
Uncomfortable and Distressing
"I'm not a person of significant means, so I'm taking a considerable financial hit," Orr said. "It's been uncomfortable and distressing."
Orr doesn't expect to triumph with her complaint against the library, she said, "since medicine and government have been weaponized," adding that she doesn't think she'll even be able to get unemployment.
"But I'm following through because this is in alignment with what I believe to be true," Orr said.
Meanwhile, she said, she's moving on with her life, getting involved politically, and seeking out others who are not complying.
'No Strings on Me'
Leading up to her termination, she experienced anxiety and sleepless nights, she said, as narratives around COVID-19 policies veered further out of the bounds of rationality.
"I couldn't stomach it anymore," Orr said. "I personally see everyone involved in this as complicit in criminal activity in perpetuating Gov. Northam's order."
At the very least, her consolation today is that she is free, proclaiming: "there are no strings on me."
---
A student receives a Covid-19 vaccine shot in Thanh Hoa, December 1, 2021. Photo by VnExpress/Lam Son
120 children hospitalized, province suspends Pfizer vaccine batch
Le Hoang, VnExpress, December 2, 2021
(https://e.vnexpress.net/news/news/120-children-hospitalized-province-suspends-pfizer-vaccine-batch-4397748.html)
Thanh Hoa [Province] has suspended the use of a Pfizer Covid-19 vaccine batch after over 120 students were hospitalized following their inoculation.
Since November 30, the central province has been vaccinating children aged 15-17 with the Pfizer Covid-19 vaccine. However, over 120 of the children were admitted to hospitals after exhibiting symptoms like nausea, high fever or breathing difficulties, the provincial Center for Disease Control (CDC) said Thursday.
Of these, 17 had severe reactions, but their health has stabilized and they continue to be monitored at the hospital, the center said. The cause of their symptoms has yet to be confirmed by Thanh Hoa authorities.
Thanh Hoa CDC director Luong Ngoc Truong said the province has stopped using the current vaccine batch. "We still have other batches, also Pfizer vaccines, so we will continue vaccinating the children," he said.
The suspended batch would be put into storage and could be used later for other groups like adults, Truong added.
Vu Van Chinh, director of the Ha Trung District General Hospital, said side-effects following vaccination was normal, but are more likely to happen in children than adults.
"Those who have reactions or faint need to be separated so no chain reaction occurs," said Chinh.
The Thanh Hoa CDC has distributed around 117,000 Covid-19 vaccine doses to 27 districts and towns. Over 56,700 doses have been administered.
Over the past week, three children have died following their vaccination with the Pfizer Covid-19 vaccine in Bac Giang, Hanoi and Binh Phuoc. The cause of death has been determined as "overreaction to the vaccine."
Last week, four workers in Thanh Hoa's Kim Viet Shoe factory died following their Vero Cell Covid-19 vaccination, also due to "overreaction."
---
Scientists mystified, wary, as Africa avoids COVID disaster
Scientists are mystified: Africa has the lowest vaccination rates and the lowest death toll of any place. Hmmmm….
Is it significant that the mainstream media are discussing it? Compare with Cathy Buckle's recent "Letter from Zimbabwe." From November.
MARIA CHENG, Yahoo News/AP, Nov. 18, 2021
(https://news.yahoo.com/scientists-mystified-wary-africa-avoids-074905034.html)
HARARE, Zimbabwe (AP) — At a busy market in a poor township outside Harare this week, Nyasha Ndou kept his mask in his pocket, as hundreds of other people, mostly unmasked, jostled to buy and sell fruit and vegetables displayed on wooden tables and plastic sheets. As in much of Zimbabwe, here the coronavirus is quickly being relegated to the past, as political rallies, concerts and home gatherings have returned.
"COVID-19 is gone, when did you last hear of anyone who has died of COVID-19?" Ndou said. "The mask is to protect my pocket," he said. "The police demand bribes so I lose money if I don't move around with a mask." Earlier this week, Zimbabwe recorded just 33 new COVID-19 cases and zero deaths, in line with a recent fall in the disease across the continent, where World Health Organization data show that infections have been dropping since July.
When the coronavirus first emerged last year, health officials feared the pandemic would sweep across Africa, killing millions. Although it's still unclear what COVID-19's ultimate toll will be, that catastrophic scenario has yet to materialize in Zimbabwe or much of the continent.
Scientists emphasize that obtaining accurate COVID-19 data, particularly in African countries with patchy surveillance, is extremely difficult, and warn that declining coronavirus trends could easily be reversed.
But there is something "mysterious" going on in Africa that is puzzling scientists, said Wafaa El-Sadr, chair of global health at Columbia University. "Africa doesn't have the vaccines and the resources to fight COVID-19 that they have in Europe and the U.S., but somehow they seem to be doing better," she said.
Fewer than 6% of people in Africa are vaccinated. For months, the WHO has described Africa as "one of the least affected regions in the world" in its weekly pandemic reports.
Some researchers say the continent's younger population — the average age is 20 versus about 43 in Western Europe — in addition to their lower rates of urbanization and tendency to spend time outdoors, may have spared it the more lethal effects of the virus so far. Several studies are probing whether there might be other explanations, including genetic reasons or past infection with parasitic diseases.
On Friday, researchers working in Uganda said they found COVID-19 patients with high rates of exposure to malaria were less likely to suffer severe disease or death than people with little history of the disease.
"We went into this project thinking we would see a higher rate of negative outcomes in people with a history of malaria infections because that's what was seen in patients co-infected with malaria and Ebola," said Jane Achan, a senior research advisor at the Malaria Consortium and a co-author of the study. "We were actually quite surprised to see the opposite — that malaria may have a protective effect."
Achan said this may suggest that past infection with malaria could "blunt" the tendency of people's immune systems to go into overdrive when they are infected with COVID-19. The research was presented Friday at a meeting of the American Society of Tropical Medicine and Hygiene.
Christian Happi, director of the African Center of Excellence for Genomics of Infectious Diseases at Redeemer's University in Nigeria, said authorities are used to curbing outbreaks even without vaccines and credited the extensive networks of community health workers.
"It's not always about how much money you have or how sophisticated your hospitals are," he said.
Devi Sridhar, chair of global public health at the University of Edinburgh, said African leaders haven't gotten the credit they deserve for acting quickly, citing Mali's decision to close its borders before COVID-19 even arrived.
"I think there's a different cultural approach in Africa, where these countries have approached COVID with a sense of humility because they've experienced things like Ebola, polio and malaria," Sridhar said.
In past months, the coronavirus has pummeled South Africa and is estimated to have killed more than 89,000 people there, by far the most deaths on the continent. But for now, African authorities, while acknowledging that there could be gaps, are not reporting huge numbers of unexpected fatalities that might be COVID-related. WHO data show that deaths in Africa make up just 3% of the global total. In comparison, deaths in the Americas and Europe account for 46% and 29%.
In Nigeria, Africa's most populous country, the government has recorded nearly 3,000 deaths so far among its 200 million population. The U.S. records that many deaths every two or three days.
The low numbers have Nigerians like Opemipo Are, a 23-year-old in Abuja, feeling relieved. "They said there will be dead bodies on the streets and all that, but nothing like that happened," she said.
On Friday, Nigerian authorities began a campaign to significantly expand the West African nation's coronavirus immunization. Officials are aiming to inoculate half the population before February, a target they think will help them achieve herd immunity.
Oyewale Tomori, a Nigerian virologist who sits on several WHO advisory groups, suggested Africa might not even need as many vaccines as the West. It's an idea that, while controversial, he says is being seriously discussed among African scientists — and is reminiscent of the proposal British officials made last March to let COVID-19 freely infect the population to build up immunity.
That doesn't mean, however, that vaccines aren't needed in Africa.
"We need to be vaccinating all out to prepare for the next wave," said Salim Abdool Karim, an epidemiologist at South Africa's University of KwaZulu-Natal, who previously advised the South African government on COVID-19. "Looking at what's happening in Europe, the likelihood of more cases spilling over here is very high."
The impact of the coronavirus has also been relatively muted beyond Africa in poor countries like Afghanistan, where experts predicted outbreaks amid ongoing conflict would prove disastrous.
Hashmat Arifi, a 23-year-old student in Kabul, said he hadn't seen anyone wearing a mask in months, including at a recent wedding he attended alongside hundreds of guests. In his university classes, more than 20 students routinely sit unmasked in close quarters.
"I haven't seen any cases of corona lately," Arifi said. So far, Afghanistan has recorded about 7,200 deaths among its 39 million people, although little testing was done amid the conflict and the actual numbers of cases and deaths are unknown.
Back in Zimbabwe, doctors were grateful for the respite from COVID-19 — but feared it was only temporary.
"People should remain very vigilant," warned Dr. Johannes Marisa, president of the Medical and Dental Private Practitioners of Zimbabwe Association. He fears that another coronavirus wave would hit Zimbabwe next month. "Complacency is what is going to destroy us because we may be caught unaware."
___
Cheng reported from London. Rahim Faiez in Islamabad, Pakistan, and Chinedu Asadu in Lagos contributed to this report.