Today, Dec. 4, 2021
December 4, 2021 by Steve Beckow

My thanks to Len, D, and Brian, the fruits of whose research make up these pages
---
Yet Another Doctor Proves The Real Covid Shot Agenda: Depopulation
Ava Garcia, True Defender, Dec. 3, 2021
(https://thetruedefender.com/yet-another-doctor-proves-the-real-covid-shot-agenda-depopulation/)
Excerpt only
"Dr. Shankara Chetty, a South African family doctor who is credited with improving early treatment for the Wuhan coronavirus (Covid-19), says that the goal of the mass "vaccination" program is to "control and kill off a large proportion of our population without anyone suspecting that we were poisoned."
"The deaths that are meant to follow the vaccinations will never be able to be pinned on the poison," he said. "They will be too diverse, there will be too many, and they will be in too broad a timeframe for us to understand that we have been poisoned."
Furthermore, Dr. Chetty claims to have successfully treated more than 7,000 Chinese Virus patients "without a single hospitalization or death." He is also keenly aware of the government's censorship campaign against the early treatment protocols he provides to his patients.
"I think the perspective around what is happening is vitally important," Dr. Chetty explained during a Zoom conference call. "We need to understand what the aim is. Everyone knows that there are inconsistencies, that there's coercion, but we need to understand why. Why is it there?"
This "pathogen," as he describes it, is either found in (Johnson & Johnson, AstraZeneca) or produced by (Pfizer-BioNTech, Moderna) the so-called "vaccines." And it is this pathogen that will eventually kill off millions, if not billions, of people.
"What looks like transpired here [is] they've engineered a virus and put this weapons-grade package onto it called 'spike protein,'" Dr. Chetty further explained.
Only a small number of people experience an immediate "allergic reaction" to the "most elaborately engineered toxin," he says, usually within the first eight days after the onset of symptoms. The injections, however, extend that allergic reaction "for a longer period."
"We begin to see the endothelial [blood vessel lining] injuries that this vaccine causes with its spike protein, with its influence on its ACE2 receptors," Dr. Chetty warns. "Those are the deaths that are meant to follow. And they will never be pinned onto the spike protein, a very well-engineered toxin".
"Now spike protein is also a membrane protein. So, the mRNA will distribute this throughout our body. It will be made in various tissues around our body. It will be incorporated into those membranes around our body, and those specific tissues."
---
EXCLUSIVE… Lawrence Sellin: Evidence Indicates COVID-19 is a Designed Bioweapon with a Toxic Structure that MAY BE REPLICATED IN VACCINES
Joe Hoft, Gateway Pundit, December 3, 2021
(https://tinyurl.com/yrsanxz5.)
Excerpt only.
Guest post by Lawrence Sellin
Evidence indicating COVID-19 is a designed bioweapon with a toxic structure that may be replicated in vaccines.
A previous Gateway Pundit article identified two "smoking guns" supporting the conclusion that COVID-19 was created in a laboratory.
First, a de facto scientific recipe for the laboratory creation of COVID-19 was described in the 2018 research grant application to the U.S. Department of Defense's Defense Advanced Research Projects Agency (DARPA) submitted by scientists who directly collaborated with the "bat woman" Zheng-Li Shi of the Wuhan Institute of Virology.
The research proposal explicitly states that bat coronaviruses, collected in southern China by the Wuhan Institute of Virology, would be isolated and genetically sequenced, particularly the spike proteins, which are the binding elements initiating infection.
It was further proposed that spike proteins demonstrating "high risk" for human infection would be artificially combined with other bat coronavirus "backbones," creating entirely new and potentially dangerous coronaviruses.
The second smoking gun in the DARPA grant application was the artificial insertion of furin polybasic cleavage sites, short sequences of amino acids e.g. proline-arginine-arginine-alanine or PRRA, long-known to increase infectivity and lethality of coronaviruses.
(Read more: https://tinyurl.com/yrsanxz5.)
---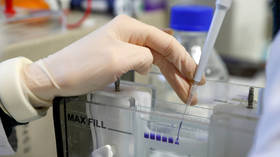 My understanding is that the deep state does not release any virus/bioweapon without already having the vaccine/antidote/antibody for it. Is this it?
Antibody neutralizing all Covid variants found, Chinese scientists claim
Russia Today, 1 Dec, 2021
(https://www.rt.com/news/541886-china-antibody-covid19-omicron/
Chinese scientists claim to have isolated an antibody which can effectively neutralize all strains of Covid-19, referencing both lab experiments and those performed on a living organism.
In a study published on Tuesday, Chinese scientists from a variety of institutions, including Sun Yat-sen University in Guangzhou and Zhejiang University in Hangzhou, suggested that they may have the panacea to the Covid-19 pandemic.
The authors claim that monoclonal antibody 35B5 has been shown in both in vitro (laboratory or test-tube experiment) and in vivo (performed on living organism) studies to neutralize wild-type Covid-19 (without mutations) as well as variants of concern (VOCs). The in vivo tests were carried out on humanized mice.
The scientists noted that the antibody also works on the highly mutated Delta variant, which has been responsible for deadly waves of infection around the world since it first emerged in India earlier this year.
"35B5 neutralizes SARS-CoV-2 [Covid-19] by targeting a unique epitope [part of the antigen molecule which the antibody attaches itself to] that avoids the prevailing mutation sites," the study explains. In other words, 35B5 targets a unique part of the virus that does not change during the mutation process.
By targeting part of the virus which is not impacted by the mutations identified in circulating VOCs, antibody 35B5 demonstrated capacity for "pan-neutralizing efficacy" across multiple strains. These findings, the scientists argue, could be "exploited for the rational design of a universal SARS-CoV-2 [Covid-19] vaccine."
The part of the antigen targeted by antibody 35B5 is also present in the Omicron variant, the researchers note.
The research could prove particularly valuable amid the spread of Omicron, which is highly mutated. Leaders and scientists around the world are concerned the mutant virus could evade vaccine-induced immunity and immunity gained from previous infection.
---
Trudeau assures Five-Year-Olds They'll Soon be able to Schedule Their Shotshttps://platform.twitter.com/embed/Tweet.html?dnt=true&embedId=twitter-widget-0&features=eyJ0ZndfZXhwZXJpbWVudHNfY29va2llX2V4cGlyYXRpb24iOnsiYnVja2V0IjoxMjA5NjAwLCJ2ZXJzaW9uIjpudWxsfSwidGZ3X2hvcml6b25fdHdlZXRfZW1iZWRfOTU1NSI6eyJidWNrZXQiOiJodGUiLCJ2ZXJzaW9uIjpudWxsfSwidGZ3X3NwYWNlX2NhcmQiOnsiYnVja2V0Ijoib2ZmIiwidmVyc2lvbiI6bnVsbH19&frame=false&hideCard=false&hideThread=false&id=1466829591956246529&lang=en&origin=https%3A%2F%2Fgoldenageofgaia.com%2F2021%2F12%2F04%2Ftoday-dec-4-2021%2F&sessionId=f47ff2c7cda4da7bfcf940de1be78d7e636c75c3&theme=light&widgetsVersion=9fd78d5%3A1638479056965&width=500px
---
Canada's Chief Public Health Officer Theresa Tam listens to Prime Minister Justin Trudeau speak during a news conference last month in Ottawa. Every infringement on citizens' privacy, mobility, autonomy and conscience rights has been justified by officials in the name of the infallible technocratic might of "the science," writes privacy lawyer Allan Richarz. (Adrian Wyld/The Canadian Press)
The really interesting thing about this next story is that it comes from mainstream media – the Canadian Broadcasting Corporation, which is to Canada what the BBC is to Britain. Has there been a break in the dike?
On COVID restrictions, our governments keep firing up the gaslights and shifting the goalposts
Allan Richarz · for CBC Opinion · Posted: Dec 03, 2021
(https://www.cbc.ca/news/opinion/opinion-covid-measures-gaslighting-shifting-goalposts-1.6268380)
This column is an opinion by Allan Richarz, a privacy lawyer in Toronto. For more information about CBC's Opinion section, please see the FAQ.
Listen closely and one might be able to discern the unmistakable sounds of our elected and unelected officials frantically firing up the gaslights and moving the goalposts on COVID restrictions and vaccinations.
It was a precipitous but inevitable shift from "two weeks to flatten the curve" to get the jab or lose your job," and unsurprisingly, there is still more to come.
Met the provincial vaccination targets? Great; but now it's time for a booster. Ready for the "temporary" vaccine passport system to expire? Sorry, we need to extend it through spring; proving once again that if you give the government an inch on your rights, they will go for the mile every time.
Less than a year ago, government and public health officials touted vaccination as a panacea to end the pandemic. It's safe, effective and will allow the country to put COVID behind us, we were told. To that end, citizens were encouraged, prodded and eventually threatened to get their shots, with holdouts demonized by politicians at all levels. Yet, in Ontario, even as the province exceeded by weeks its vaccination and case number targets of the government's phased reopening plan, citizens were offered only breadcrumbs in return: moving up Phase 3 reopening by just a few days, with no plans at the time for a complete reopening.
Goalposts shift again
And now, with new case numbers in Ontario essentially split evenly between the unvaccinated and fully vaccinated and questions about waning vaccine efficacy, the goalposts shift again with the rollout of booster shots elsewhere in the country and calls for expanded eligibility.
One does not need to look hard to guess what the next step will be across Canada. In Israel and France, the definition of fully vaccinated was changed to include boosters; those six months out from their second dose, or first booster, are now considered unvaccinated, and their vaccine passport privileges suspended.
There is, of course, the popular rebuttal that these goalpost shifts are entirely above-board as the "science evolves." But that exposes the flaw inherent in governments' COVID response: for nearly two years, debate and dissent from burdensome COVID restrictions has been short-circuited with demands that citizens "trust the science"; a modern take on debate-defusing exhortations to "support our troops" during the War on Terror. Every infringement on citizens' privacy, mobility, autonomy and conscience rights has been justified by officials in the name of the infallible technocratic might of "the science."
Ontario Premier Doug Ford attends a news conference at the Queens Park legislature in Toronto in April, the same month he apologized to Ontarians and cancelled a number of COVID-19 restrictions after facing intense backlash. (Chris Young/The Canadian Press)
But when proven wrong – or more importantly, unpopular at the polls – that formerly rock-solid science on which officials acted is simply dismissed out of hand. Policymakers, however, cannot on the one hand demand unyielding adherence to science, and then down the road simply hand-wave away their previous demands on the grounds that their knowledge or political fortunes have evolved.
It is for this precise reason that checks and balances exist in governance: to prevent rule through unaccountable technocratic appeals to authority. Debate and dissent in the age of COVID, however, have become four-letter words.
Our public health officials and elected politicians should not at this point expect any benefit of the doubt. Considering that we are still taking our shoes off and binning bottles of water at airport security 20 years after 9/11, that government officials and their unelected mandarins are unwilling to cede their newfound power in an age of COVID should not come as any surprise.
Indeed, officials have shown they are not above apparent falsehoods to further their aims. Last week, Ontario's Chief Medical Officer of Health Kieran Moore justified the immunization of children between the ages of five and 11 by claiming hospitalization and case counts for that age group were increasing. Yet, according to Ontario's own data, there had been zero hospitalizations in that age group in the past two weeks at the time of Moore's statement.
Always another threat
As the American Civil Liberties Union (ACLU) once knew, "There will always be a new disease, always the threat of a new pandemic." Accordingly, the number of boosters, or the percentage of fully-vaccinated citizens, needed for a return to normal will always be n+1. Meet one metric, and be met with two more. As the ACLU continues, "If [fear of disease] justifies the suspension of liberties and the institution of an emergency state, then freedom and the rule of law will be permanently suspended."
Already we see public health officials priming the pump for the next goalpost shift. Even if vaccine uptake is high among five to 11-year-olds, it will still not be good enough. According to Dr. Theresa Tam, Canada's chief public health officer, toddlers under the age of four will be next to need the shots, claiming with an absolute lack of shame that – unlike all the other times we were promised an end to the pandemic – vaccinating that group will be a "turning point."
The government, of course, will never walk back its emergency powers of its own volition. And why would they? After two years of fomenting terror and division among the population, they have cultivated a solid base of support that combines the post-9/11 see-something-say-something paranoia of a middle-class yuppie with the unctuous 1980s Moral Majority sense of superiority.
Until public opinion turns sharply against government overreach, we will continue to live in an artificially prolonged state of emergency, beholden to the whims of bureaucrats and elected officials.