Today, Nov. 30, 2021
November 30, 2021 by Steve Beckow

My thanks to Len, D, and Brian, the fruits of whose research make up these pages.
My apologies if some of these stories are repeats. Too many windows open!
---
---
---
Fully vaccinated Canadian singer Bryan Adams tests positive for #COVID19 for the second time in a month
---
Big, big, big. What do Jack Twitter and the Big Three automakers know that we don't? Red to green? Thanks to Kathleen.
Big Three US Automakers Agree To Not Mandate Vaccines For UAW Union Members
Joe Martino, The Pulse, Nov. 28, 2021(https://thepulse.one/2021/11/28/big-three-us-automakers-agree-to-not-mandate-vaccines-for-uaw-union-members/)
Ford, General Motors, and Stellantis have agreed to protect the United Auto Workers union members from mandatory vaccination as a condition of their employment. They will also get to retain the right to privacy over their vaccine status and instead will have the freedom to disclose at their discretion.
For those that value medical privacy and the principles of freedom of choice, this represents a big win.
In a statement made by the United Auto Workers union they said,
"At a meeting Monday evening, the COVID-19 Joint Task Force, comprised of the UAW, Ford, General Motors and Stellantis, has aligned on a policy of voluntary and confidential disclosure of vaccination status for UAW members. Each company will provide additional communication to employees on how, where and when to report their vaccination status.

In addition to encouraging members to disclose their vaccination status, the Task Force continues to urge all members, coworkers, and their families to get vaccinated and get booster vaccinations against COVID-19, while understanding that there are personal reasons that may prevent some members from being vaccinated, such as health issues or religious beliefs.

After reviewing the status of CDC and OSHA guidelines, the Task Force also decided it is in the best interest of worker safety to continue masks in all worksites at this time."

United Auto Workers Union
US President Joe Biden attempted to mandate vaccines for all companies with 100 or more employees. This mandate was swiftly struck down by US courts as unconstitutional. OSHA, the Occupational Safety and Health Association agreed to suspend Biden's Vax and Test mandate as well.
To some, this might not seem like a good idea as they might believe vaccines are the only way out of this pandemic – even though the science does not support this belief. COVID vaccines do not stop transmission or infection, making them a symptom management medication as they do indeed reduce severity of disease for a short time.
That said, do we want to set a precedent of mandating symptom management medications?
---
Riccardo Bosi, leader of AustraliaOne Party, appeals to Australians to wake up.
Hit graphic to watch video
(https://rumble.com/vmxs2b-riccardo-bosi-leader-of-australia-one-gives-a-warning-to-australians..html)
Former Australian Special Forces Commander Riccardo Bosi: This Stops When We Stop It
Hit graphic to watch video
(https://rumble.com/vpj1pw-former-australian-special-forces-commander-riccardo-bosi-this-stops-when-we.html)
---
Hit graphic to view video
(https://www.linkedin.com/posts/jeanee-andrewartha-5237a03_wow-mainstream-media-telling-the-truth-for-ugcPost-6870313371682660352-4p6P)
---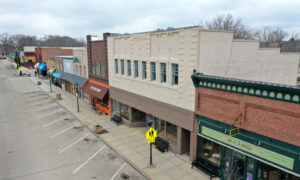 How COVID Lockdowns Destroy Small Businesses and Aggravate Income Inequality
Robert G. Natelson, Epoch Times, Nov. 28, 2021
(https://tinyurl.com/2jz2433f)
A new study shows that COVID-19/CCP virus lockdowns hurt the economy, sharpen inequality, and disproportionately harm minorities and the poor.
The study, authored by Dr. Paul Prentice and research intern Jim Royal, was published by the Independence Institute in Denver. (Disclosure: I'm an Independence Institute senior fellow. I had no connection with this project.) The title is "Unequal Opportunities, Unequal Outcomes: The COVID-19 Recession in Colorado." Despite the name, the study's findings extend far beyond Colorado.
Prentice and Royal confirm what other researchers have found: Although some mandates stem the spread of the disease—such as those shutting places of mass assembly and requiring social distancing and masks—economic lockdowns do not.
The authors display a chart (pdf) that illustrates the point. On the horizontal axis are the 50 states ranked by a "stringency index," a system developed at Oxford University for measuring the severity of each state's lockdown. On the vertical axis is the number of COVID-19 deaths in each state per 100,000 persons. The scattered results show almost no connection between the severity of lockdowns and COVID-19 mortality.
During the Spanish Flu pandemic of 1919, officials often required social distancing, masks, modifications of business hours, and closure of places of mass assembly. But they refused to close down the economy. The ineffectiveness of the COVID-19 lockdowns suggests the public health officials of 1919 got it right. (More people died in the Spanish Flu epidemic, but that was due to the greater severity of the disease and the lack of pharmaceuticals.)
Although the COVID-19 lockdowns provided few (if any) health benefits, they did enormous damage to the economy. States with "progressive" governors issued particularly harsh orders. Prentice and Royal show that the more stringent the lockdown, the worse the economic harm.
Like other "progressive" governors, Colorado's Jared Polis issued sweeping shutdown orders. Some of these decrees were contradictory, confusing, and/or unconstitutional, but he extended them repeatedly. Yet even Polis's edicts were not as harsh as those imposed by some other Democrat governors. For example, he didn't discriminate against houses of worship.
As a result, the Oxford index ranks Colorado near the middle rank among states for lockdown severity. So what happened in Colorado helps us understand what happened across America.
Prentice and Royal's research shows that within a few months after Polis's first order, Colorado gross domestic product dropped more than 8 percent. Employment plummeted nearly 15 percent. Nor was the burden borne equally. It was much harder on small business, racial minorities, and the relatively poor than on big business, Caucasians, or the relatively rich.
Small Businesses Close, Big Corporations Prosper
Consider first the disparate effects on business enterprises: Small firms suffered greatly, and many closed up shop: "According to data compiled by the Opportunity Insights Economic Tracker," write Prentice and Royal, "the number of small businesses open in Colorado in June 2021 was an astounding 43.2% lower than the pre-pandemic level in January 2020."
On the other hand, big business prospered:
"During the same period, stock prices increased by an average of 61.4% among the Fortune 500 companies headquartered in Colorado. Both nationally and in Colorado, larger businesses are enjoying rapid increases in profits and share price as small businesses are shuttered."
These are deeply disturbing results: First, because they are so unjust. Second, because of the devastating effect on hard-working families. And third because more innovation comes from small firms than from large ones. The loss of so many small businesses is likely to prove devastating to future innovation—and therefore to future American life.
Minorities Were Particularly Hurt By Lockdowns
The Prentice-Royal study also found that the burden of the Colorado lockdown fell overwhelmingly on minorities and the poor. Specifically:
Among Colorado's four largest economic sectors, the most damaged by far was "leisure and hospitality"—precisely the sector paying the lowest wages and employing the largest percentage of Hispanic workers. It's also the sector recovering most slowly.
In the weeks after the lockdown was imposed, workers making less than $40,000 annually composed more than 38 percent of all layoffs.
While employment held up fairly well among householders earning more than $75,000 annually, "the percentage of Coloradans with a household income under $75,000 who were working dropped sharply to less than 50% in the spring of 2020."
The lockdown was marred by a stunning increase in drug overdoses, particularly among Hispanics and African Americans.
Spikes in anxiety and depression were largest among the poor.
Early in the lockdown, poorer and wealthier Coloradans postponed medical procedures at about the same rate. But as the lockdown progressed, poorer people had to postpone medical procedures much more than wealthier people.
Among racial groups, whites initially postponed medical procedures more than blacks and Hispanics. As the lockdown proceeded, this reversed. By May/June of 2021, blacks and Hispanics postponed at double the rate of whites.
Educational outcomes dropped for all groups, but disproportionately among the poor and disadvantaged.
'Progressives' Hurt Those They Claim to Help
Behind the tragedy of these events, there's an irony: "Progressive" politicians say they care about economic inequality. In fact, however, their policies foster inequality, and their political careers thrive on inequality. According to one liberal think tank, the deep blue states of New York, Connecticut, Nevada, Massachusetts, California, New Jersey, and Illinois comprise seven of the top ten states for income inequality. If the deep blue District of Columbia were a state, it would rank 11th.
Despite the fact that "progressives" demagogue interminably against "big corporations" and "the rich," their policies tend to favor both. Why? Because an economy dominated by just a few actors is easier to control. And it's easier and more profitable to shake down the rich than to win political support from those of moderate means.
Prentice and Royal highlight some of the political distortions in the "progressive's" lockdown orders. As Justice Neil Gorsuch has observed (pdf), those decrees were permeated with other political distortions as well: Many small enterprises (whose owners tend to be conservative) were forced to close, but the offices of lawyers (who tend to be more liberal) were allowed to stay open. Pot shops (mostly left-leaning) remained open, but tobacco stores (mostly conservative) were closed. Media outlets (mostly liberal) could continue in business, but houses of worship (a more varied clientele) were shuttered. Teachers and government bureaucrats (mostly liberal) received time off with full pay, while restaurant workers figuratively starved.
Many say that "progressives" want to make America more like Europe. Not true. They want to make America more like corrupt and dysfunctional Third World countries—places of great social inequalities, where life is dominated by what Ayn Rand called "the aristocracy of pull."
COVID-19 offered leftist politicos a way to advance toward their goals: Their lockdowns crippled American economic power, increased the gap between rich and poor, and benefited their friends while punishing their opponents. And then they purported to compensate by distributing government handouts.
Views expressed in this article are the opinions of the author and do not necessarily reflect the views of The Epoch Times.
Robert G. Natelson, a former constitutional law professor, is senior fellow in constitutional jurisprudence at the Independence Institute in Denver.
---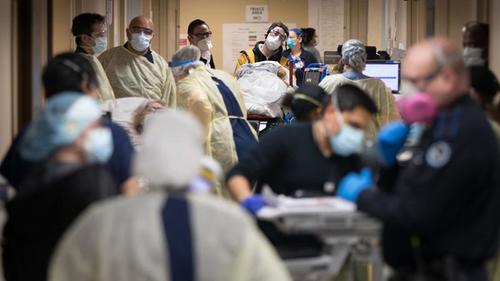 New York ER Closes As Employees Refuse To Comply With Vaccine Mandate
Tyler Durden, Zero Hedge, Nov 26, 2021
(https://www.zerohedge.com/political/new-york-er-closes-employees-refuse-comply-vaccine-mandate)
Authored by Steve Watson via Summit News,
An emergency room in a hospital in New York ceased operation as staff walked out, refusing to go along with the COVID vaccine mandate.
A statement released by the Mount Sinai South Nassau hospital notes that workers were given an ultimatum to either get vaccinated or be banned from coming to work.
A significant number of staff chose the latter, leading to the ER in Long Beach to shut down.
"The Emergency Department in Long Beach operated by Mount Sinai South Nassau, will be closed temporarily as of 3 PM today due to nursing staff shortages," the statement announced.
It continues, "The staffing shortage and closure of the LBED is a result of the Hospital's compliance with the NYSDOH's mandate… requiring the suspension of all staff working under temporary religious exemptions who could not show proof today of receiving a first dose of COVID-19 vaccination or a valid medical exemption from receiving it."
"We regret having to take this step but the safety of our patients is always our No. 1 priority," the statement continues, adding "This closure should not be interpreted as anything beyond what it is – a temporary measure designed to relieve current staffing challenges in our Emergency Department."
Reports have suggested that the ER is set to reopen after the shortages were resolved; however the incident highlights the impact that enforced vaccination is having on health services.
Presumably those workers who continue to refuse to comply with the mandate will simply be replaced by new workers who will.
The vaccine mandate for health workers was announced in August by the New York State Department of Health, with religious exemptions on the whole not being granted.
The latest closure of this emergency room comes as nurses and officials at the Children's hospital where all the kids injured in the horrific Waukesha car attack were taken revealed that treatment is being hampered by a staff shortage brought on by the COVID vaccine mandate.