Today, Nov. 23, 2021
November 23, 2021 by Steve Beckow

My thanks to Len, D, and Brian, the fruits of whose research make up these pages.
---
"Those who are destitute, in poverty, homeless, diseased, or suffering in any way will immediately have their circumstances improved in a fashion that is way beyond anything you can presently foresee, because there are advanced technologies prepared and available to clean and heal the planet and all who live on her that will be put into action as soon as the old order has crumbled. Every conceivable disruption that could occur as a result of the old order collapsing has been taken into account; nothing is being left to chance."
(Saul through John Smallman, June 6, 2012.)
---
Although I can't track the quote down, I recall Archangel Michael telling me in a reading to watch for a changeover among very wealthy people from holding onto their money to freely gifting it. That would show the kind of shift that would support a new economy along lines envisaged.
---
Bezos's ex-wife MacKenzie Scott can't give her billions away fast enough
As soon as the 21st richest person on the planet pays out, more Amazon cash pours in
Keiran Southern, The Sunday Times, Los Angeles, November 21 2021
(https://www.thetimes.co.uk/article/bezoss-ex-wife-mackenzie-scott-cant-give-her-billions-away-fast-enough-wfk2x6tg7)
How much money is too much money? MacKenzie Scott may have the answer.
The ex-wife of the Amazon founder Jeff Bezos, who according to Forbes is the 21st richest person on the planet with a net worth of about $60 billion, pledged to give away her fortune "until the safe is empty".
But thanks to the soaring stock price of the e-commerce and web services giant, Scott, a novelist, has discovered that fulfilling that promise without generating controversy is more of a challenge than expected. She received a 4 per cent stake in Amazon after her 2019 divorce and its value has roughly doubled during the pandemic, swelling her already astronomical wealth even as she continues throwing cash at charitable causes.
(Read more: https://www.thetimes.co.uk/article/bezoss-ex-wife-mackenzie-scott-cant-give-her-billions-away-fast-enough-wfk2x6tg7)
---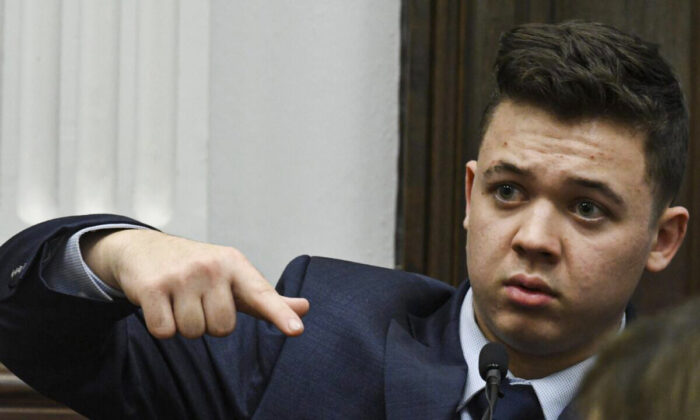 Kyle Rittenhouse testifies about Gaige Grosskreutz holding a gun toward him during cross examination in his trial at the Kenosha County Courthouse in Kenosha, Wis., on Nov. 10, 2021. (Mark Hertzberg /Pool Photo via AP)
The journalistic establishment is accused of blatant recklessness in their misrepresentation of the Rittenhouse case. A very detailed analysis; some bias.
Misinformation About Kyle Rittenhouse Case Floods Social Media, TV Networks
Zachary Stieber, Epoch Times, November 21, 2021
(https://tinyurl.com/2ukrjwwu)
Kyle Rittenhouse shot three black men. Kyle Rittenhouse traveled across state lines with a gun. Kyle Rittenhouse had an AK-47.
These are three examples of false information being spread about Rittenhouse, whose trial ended last week with his acquittal.
Prominent influencers, including lawmakers and reporters, are sources of some of the misinformation—possibly disinformation—leaving experts troubled.
On CBS' "Face the Nation" on Sunday, reporter Mark Strassman falsely said Rittenhouse "drove in from Illinois armed for battle." On CNN's "Cuomo Prime Time" on Friday, Harvard University professor Cornell William Brooks falsely said Rittenhouse was carrying an AK-47. The Independent falsely reported late last week that Rittenhouse shot three black men.
Rittenhouse, 17 years old at the time, shot three men, two fatally, with an AR-15 in Kenosha, Wisconsin, on Aug. 25, 2020. All were white, as is Rittenhouse. The gun was bought by a friend and was picked up by the teenager, who resided in Illinois, from a home in Kenosha.
Rittenhouse claimed self-defense and the jury agreed, clearing him of all charges after video footage and witness testimony during the trial showed he was attacked by all of the men he shot.
"As soon as the Rittenhouse situation happened in Kenosha, the establishment media immediately created a narrative that would work with their particular, preferred narrative. As we now know, that led to a good many mischaracterizations and errors at that time," Jeffrey McCall, a communications professor at DePauw University, told The Epoch Times in an email.
"By now, those media outlets are so committed to that narrative that they can't drag themselves to correct previous errors or provide accurate details today. This not only reflects that some media outlets work with predetermined, ideological narratives, but that they are also too lazy to report facts as provided in the actual trial," he added.
Ryan Chittum, a former journalist, and media critic with the Columbia Journalism Review, said that some of the legacy news outlets have done excellent journalism on the Rittenhouse case, including the New Yorker, "but it's been like a few drops in a firehouse of tendentious, false, and often malicious press coverage intended to fit an ideological narrative."
"On balance, the press has been a destructive force on this story, from its beginnings in the coverage of the Jacob Blake shooting that set the whole thing off and which we know was justified, to the downplaying of the $50 million in destruction done by rioters in Kenosha, to the libelous portrayal of Rittenhouse and the particulars of what happened," he told The Epoch Times in a Twitter message. "There have been innumerable journalistic disasters in the Trump era, but this is the most blatantly reckless one of them all."
Rittenhouse shot the men during riots that followed a police officer shooting Jacob Blake in the same city.
Blake was armed with a knife. Video footage showed he resisted arrest after visiting the home of an ex-girlfriend who had previously accused him of sexual assault. Prosecutors decided not to charge the officer in January because he appeared to act in self-defense and the Department of Justice last month announced it was closing a probe and filing no charges. The sexual assault charge was dropped last year.
Blake survived the shooting, though he is partially paralyzed. Some people falsely said last week that he died, including ESPN's Jalen Rose and ABC's Terry Moran.
"I misspoke and quickly corrected myself, on the air, as soon as I could. I apologize for the error," Moran wrote on Twitter.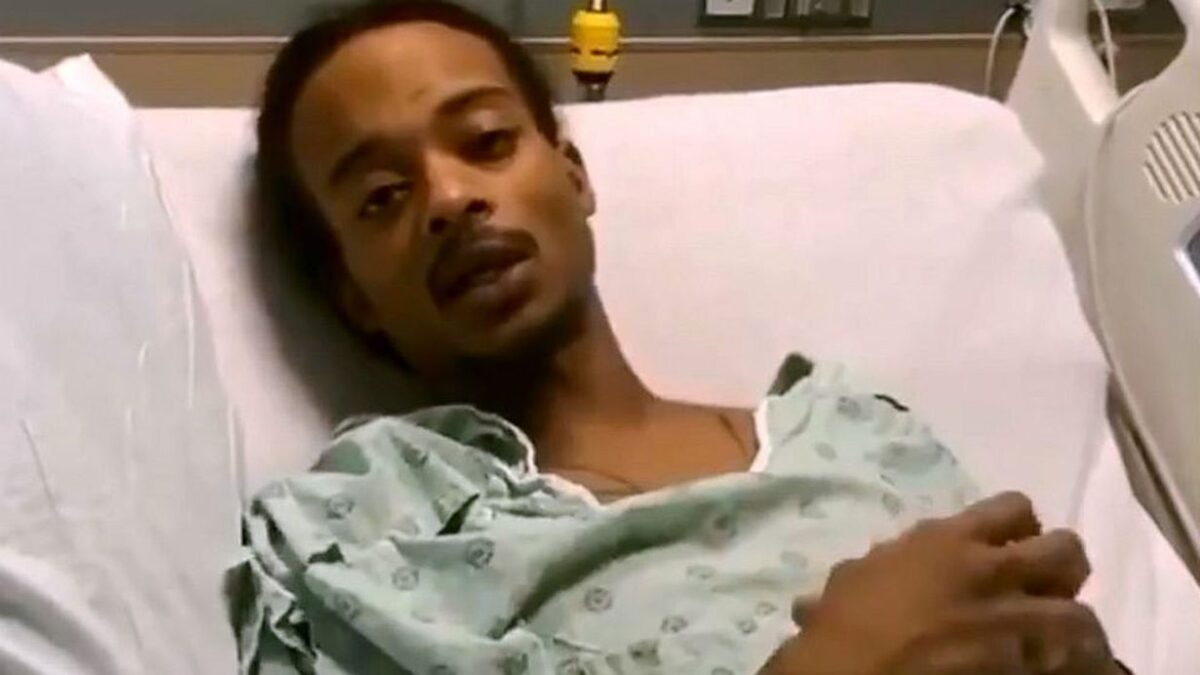 In this social network video released by his lawyer Ben Crump, Jacob Blake delivers a message from a hospital bed in Kenosha, Wis., on Sept. 5, 2020. (Attorney Crump Twitter account/AFP via Getty Images) [No video in original article]
Rep. Sean Patrick Maloney (D-N.Y.), the chair of the Democratic Congressional Campaign Committee, claimed Blake died and that he was unarmed.
The committee later sent out an updated statement from Maloney. "Apologies," Chris Hayden, its communication director, wrote on Twitter.
The Maloney statement stood out to Jeffrey Blevins, a professor in the University of Cincinnati's Department of Journalism who is working on a book about how misinformation is spread.
"I think a lot of times the political left tend to think that false information, fake news, misinformation, is something that is only attributable to the political right. And that's just simply not the case," Blevins told The Epoch Times.
While people with small followings may put forth misinformation, much more damage is done when higher-profile influencers such as lawmakers do.
"When we think about influencers—and politicians fit into this category, certainly the chair of the Democratic Congressional Campaign Committee—their official account would be seen as a credible source," he said. "When they put something out like this, it tends to stick with people's minds."
The false claims have had the potential to reach tens of millions of people on Twitter, where they were spread far and wide. The ESPN, CBS, CNN, and ABC shows combined have millions of viewers.
Among those falling prey to the misinformation or dubious claims were two professors who have been cited by media outlets as experts in identifying it.
Lisa Fazio, a Vanderbilt psychology professor, shared a video of Amber Ruffin, who has her own show on NBC, making multiple false or evidence-free claims, including the assertion that Rittenhouse brought a rifle across state lines. That video has been watched over 7.7 million times since Nov. 19, getting boosted by the likes of Rep. Ilhan Omar (D-Minn.).
Shannon McGregor, a professor at the Hussman School of Journalism and Media at the University of North Carolina, Chapel Hill, shared a tweet that called Rittenhouse "openly white supremacist," a claim that has no evidence supporting it.
Blevins said the situation reminds him of what happened in 2019 when a brief, tightly edited video clip from Washington was disseminated widely by media and others.
Nick Sandmann, a Kentucky high school student, was in the nation's capital with classmates. The clip was used to falsely state Sandmann confronted a Native American, Nathan Phillips, but video footage that later emerged showed the exact opposite was the case. Many media outlets issued corrections, and some paid Sandmann to settle defamation lawsuits.
The person who initially posted the clip had a small following, but it was widely spread, Blevins noted.
"People seem to be so eager to bring their hot take to social media, which is probably what happened in this case, and then you miss important pieces of context, and it can really do some damage," he said.
Blevins encouraged people to be more cautious, recalling what he did when the clip initially emerged. He waited, instead of sharing it or posting about it, knowing that in the past unconfirmed material was spread wildly but was later shown to be incorrect.
CBS couldn't be reached. ESPN declined to comment. Twitter, CNN, Brooks, The Independent, Fazio, McGregor, and Omar did not respond to requests for comment.
---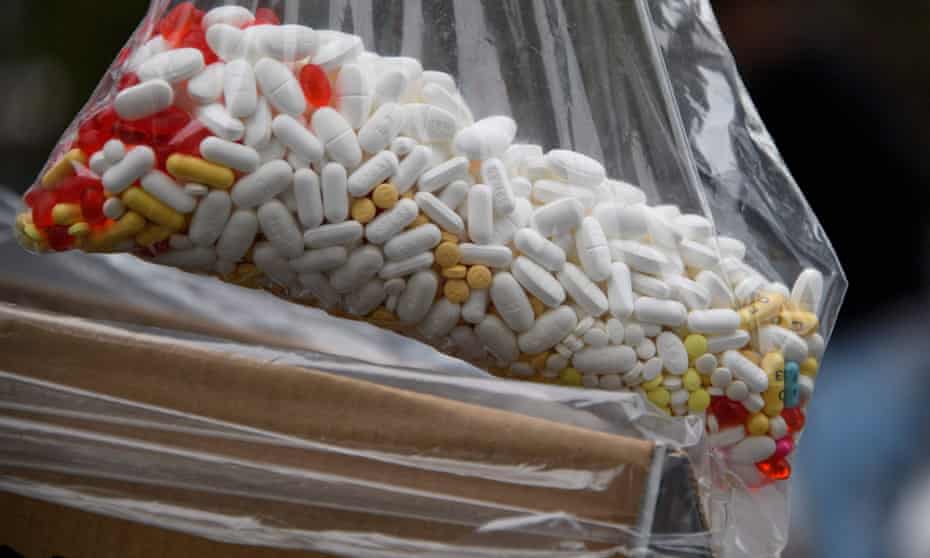 Photograph: Patrick T Fallon/AFP/Getty Images
It's amazing how we can focus on a "pandemic" reportedly no more troublesome than a seasonal flu and ignore a true pandemic from fentanyl.
'It's devastating': how fentanyl is unfolding as one of America's greatest tragedies
More than 100,000 people died from overdoses in a single year – driven primarily by one drug
People who have never used opioids before are dying from a single fatal encounter with fentanyl.
Melody Schreiber, The Guardian, 22 Nov 2021
(https://www.theguardian.com/us-news/2021/nov/22/fentanyl-deaths-spike-us-tragedy)
It was August 2020, and Luca Manuel, 13, was starting eighth grade the following day in Redding, California. He was excited to see his friends; his mother had bought him a stash of masks and school supplies for his first in-person school day in six months.
But the week earlier, he'd gotten a root canal, and his mouth still hurt. He sent a message on Snapchat to find marijuana for the pain. Instead, the dealer said he had something better: Percocet.
Luca didn't know that the pill, which had been pressed to look like the real pain medication, was actually a counterfeit laced with fentanyl, a substance 30 times more potent than heroin. He died of drug poisoning that afternoon, a video game looping like a ghost across the screen in front of him.
More than 100,000 people died from overdoses in the US in a 12-month period ending in April, according to the US Centers for Disease Control and Prevention.
It's the biggest increase ever seen in the US – and it's only rising each month, drug researchers say.
Fentanyl is driving the majority of these deaths, associated with at least 60% of the fatal overdoses – a 50% increase in a single year, Nora Volkow, director of the National Institute on Drug Abuse, told the Guardian.
"It's devastating," she said. "It's an epidemic within the pandemic." Deaths from fentanyl were already on the rise across the country, but the pandemic supercharged their speed and intensity.
It's not unusual to see people turn to drugs or alcohol during times of crisis, Volkow said. "But what we didn't expect was that during that period, there will be a massive increase in the entry of these illicit substances into the country."
Dramatically more fentanyl is coming into the US, making the drug supply increasingly dangerous.
"The trajectory is up, with no leveling off," Daniel Ciccarone, the Justine Miner endowed professor of addiction medicine at the University of California, San Francisco, said. "There's nothing that says it's slowing down."
A "triple wave" of opioids, from pain pills to heroin to fentanyl, is wreaking havoc, he said.
"Fentanyl is an extraordinarily potent drug. It was manufactured specifically to be much more potent than morphine," Volkow said. It's also incredibly profitable, she said. "If someone is a drug dealer, they make much more money by selling fentanyl than by selling heroin or selling cocaine."
(Read more: https://www.theguardian.com/us-news/2021/nov/22/fentanyl-deaths-spike-us-tragedy)
---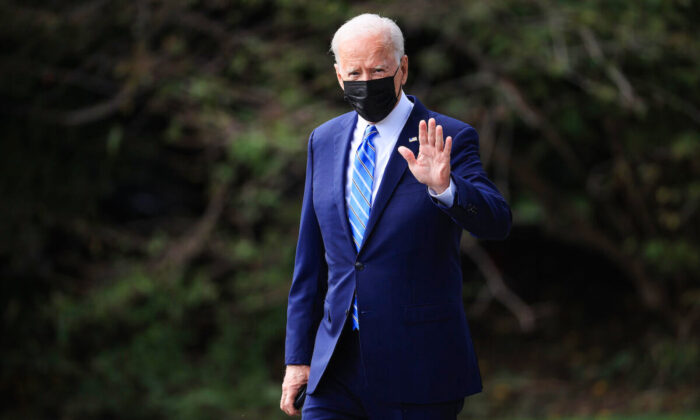 The political theater plays itself out.
Biden's Communications Director Quits, Marking 2nd White House Resignation in a Week
GQ Pan, Epoch Times, November 21, 2021
(https://tinyurl.com/tea83967)
Emma Riley, White House communications chief of staff, became the second person in the Biden–Harris team to hand in a resignation in a week, when she announced that she's leaving her post for a job in the Labor Department.
"It was an honor and privilege to serve POTUS and the American people at the White House," Riley wrote on Twitter on Nov. 19, adding that she'll be working with Labor Secretary Marty Walsh, for whom she worked as an associate press secretary when Walsh was mayor of Boston.
Riley's announcement came the day after the departure of Ashley Etienne, communication director for Vice President Kamala Harris. A White House official said in a statement that Etienne was a "valued member" of the team who would be leaving in December to "pursue other opportunities."
The resignations come as recent polls indicate a sharp decline in approval ratings for both Harris and President Joe Biden. A poll from RealClearPolitics shows an overall 41.3 percent approval for Biden's job performance, while Harris's favorable opinion rate stands at 40.2 percent. However, a USA Today/Suffolk University poll released on Nov. 7 showed a dismal 28 percent approval rating for Harris, 10 points less than Biden's 38 percent.
The Biden–Harris team's approval ratings have plunged amid a series of reports about Harris allegedly struggling in her role as vice president and alleged conflicts between Harris's staff, allies, and the broader administration. On Nov. 12, near the end of Harris's trip to France, The New York Times published a story saying Harris has produced a "mixed" track record during the first 10 months of her vice presidency. A few days later, CNN reported growing frustration among a number of Harris staffers who believed that their boss was being "sidelined."
(Read more: https://tinyurl.com/tea83967)