November 10, 2021 by Steve Beckow
Today, Nov. 10, 2021

I managed to get one out today, but I may not be able to, every day into the future. More work than I can manage as events heat up.
My thanks to Len, D, and Brian, the fruits of whose research make up these pages.
Remember: "War" is for the purpose of declaring martial law. Declaring martial law is for the purpose of announcing the fall of the cabal and the return of the Republic.
No need to worry. White-hat action is what we've been waiting for.
---

Florian Dagoury: World Record Holder In Static Breath-Hold Freediving Diagnosed With Myopericarditis After Pfizer Vaccine, Possible End Of Career
The COVID World, November 5th, 2021
(https://thecovidworld.com/florian-dagoury-world-record-holder-in-static-breath-hold-freediving-diagnosed-with-myopericarditis-after-pfizer-vaccine-possible-end-of-career/)
Florian Dagoury, currently the world's top static breath-hold free diver, has been diagnosed with myocarditis and pericarditis 40 days following his second dose with the Pfizer vaccine. He is known for the fact he officially held his breath for 10 minutes and 30 seconds.
The elite Freedriver, of French origin and based in Thailand, experienced a significant decrease in his breath-hold ability and went to a cardiologist who told him that it's a common side effect of the Pfizer vaccine.
Florian shared his experience on Instagram:
___________
Myocarditis, Pericarditis and Trivial Mitral regurgitation! Thank you Pfizer.
Just want to share my annoying experience after vaccination and perhaps have some testimonials and similar stories around Freedivers. Did you get better?
After my 2nd dose I noticed that my heart rate was way higher than normal and my breath hold capacities went down significantly. During sleep, I'm at 65-70bpm instead of 37-45bpm. During the day I'm now always over 100bpm instead of 65bpm, even when I sit down and relax. I once even reached 177bpm while having dinner with friends !!!!
10 days after my 2nd jab, I went to see a cardiologist and he told me it's a common side effect of Pfizer vaccine, nothing to worry about. Just rest it will pass. 40days after 2nd jab, I had no progress so I went to see another cardiologist and got diagnosed with Myocarditis, Pericarditis and Trivial Mitral regurgitation! Which is basically an inflammation of the heart muscles caused by the immune system and some tiny leaks of blood from the valves that no longer close properly.
I'm now struggling to reach 8min breath hold, 150m dyn and I even have a strong urge to breathe doing 40m dives. 30% decrease on my diving performance roughly.
My first thought and recommendation to Freedivers around the world is to choose a vaccine which is done the old-fashioned way like Sputnik, Sinovac, Sinopharm etc…instead of those new mRNA vaccines.
________________
The news comes shortly after French tennis player Jérémy Chardy and triathlete Antoine Méchin were forced to suspend their seasons after a severe adverse reaction to the COVID-19 vaccine.
---
Some bias, sensationalism.
Big Pharma Payday: US Government to Purchase $1 Billion More in Merck's COVID-19 Pill – That the Company Reportedly Sells for 40 Times More Than What It Costs to Produce
Jim Hoft, Gateway Pundit, November 9, 2021
(https://www.thegatewaypundit.com/2021/11/big-pharma-payday-us-government-purchase-1-billion-mercks-covid-19-pill/)
A recent international report of 64 studies shows Ivermectin has an 86% success rate as a prophylaxis and a 67% success rate in early treatment of coronavirus.
The results mirror the over 290 studies on hydroxychloroquine that have been reported over the past year.
The CDC, Dr. Fauci and the FDA ridiculed the use of the drugs to treat the China Virus despite their continued effectiveness in peer-reviewed studies.
The Gateway Pundit has reported extensively on the CDC's decisions that resulted in the deaths of thousands of Americans.
Now, as the vaccines continue to fail the US government is purchasing one billion dollars worth of the expensive treatment drug molnupiravir — similar to HCQ and Ivermectin but more expensive — from Merck and Co. Inc and partner Ridgeback Biotherapeautics.
And Merck is reportedly selling the drugs for 40 times more than what they cost to produce.
It's another big payday for Big Pharma.
US News reported:
The U.S. government will buy another $1 billion worth of the COVID-19 pill made by Merck & Co Inc and partner Ridgeback Biotherapeutics, the companies said on Tuesday.

The government in June agreed to buy 1.7 million courses of molnupiravir for $1.2 billion and is now exercising options to buy 1.4 million more.

That brings the total secured courses to 3.1 million and worth $2.2 billion. Merck said the government has the right to buy 2 million more courses as part of the contract.

The drug has been closely watched since data last month showed that when given early in the illness it could halve the chances of dying or being hospitalized for those most at risk of developing severe COVID-19.
---
Naturally Immune Federal Workers Lodge Class-Action Suit Against Fauci, Walensky Over COVID-19 Vaccine Mandate
Zachary Stieber, Epoch Times, November 9, 2021
(https://tinyurl.com/vwzaaf3y)
Federal workers who have recovered from COVID-19 have filed a class-action lawsuit against Dr. Anthony Fauci and other government officials over a COVID-19 vaccine mandate that still forces them to get a jab.
The government not only failed to offer a carve-out exemption for naturally immune workers, or those who have recovered, but neither President Joe Biden's executive order nor the guidance explaining it outlines why naturally acquired immunity isn't an acceptable alternative to vaccination, the lawsuit states.
"Because they already have natural immunity, there is no coherent purpose for the federal government to require them to undertake a medical procedure to be vaccinated if they choose not to, or be terminated from their employment, their careers," Robert Henneke, general counsel at the Texas Public Policy Foundation and one of the lawyers representing the government workers, told The Epoch Times.
Plaintiffs say the mandate violates the Administrative Procedure Act, which allows courts to overturn government actions deemed "arbitrary, capricious, or an abuse of discretion."
They quoted Dr. Scott Gottlieb, a former Food and Drug Administration commissioner who now sits on the board of Pfizer. During recent television appearances, Gottlieb described natural immunity as "durable" and "robust" and said that government officials should start assimilating it into policy discussions. They also cited Dr. Hooman Noorchashm, an immunologist who has said it is medically unnecessary for the recovered to get vaccinated.
Dozens of studies have shown that people who survived COVID-19 have strong immunity against re-infection from the virus that causes it, with some indicating the protection is similar to or higher than that provided by vaccines.
Workers tried communicating concerns about the mandate but those "have completely fallen on deaf ears, which is why we've turned to litigation," Henneke said.
"I think it's clear that the Biden administration, the federal government, is entrenched in their position on this. And so further negotiation would be pointless and instead we're going to seek assistance from the courts," he added.
The deadline for federal workers to get a COVID-19 vaccine was effectively Nov. 8, because people aren't considered fully vaccinated until two weeks after they've received their final jab. Agencies were able to begin disciplining unvaccinated workers on Nov. 9, according to Kiran Ahuja, an administration official.
The suit asks the federal court in Galveston, Texas, to declare the mandate a violation of the plaintiffs' rights and arbitrary and capricious and relieve workers from complying with it.
Defendants named include Fauci, the longtime head of the National Institute of Allergy and Infectious Diseases; Dr. Rochelle Walensky, the head of the Centers for Disease Control and Prevention; and Jeffrey Zients, who coordinates the White House COVID-19 response team.
The institute and the White House did not respond to requests for comment. The centers declined to comment.
Federal health officials have recently acknowledged natural immunity exists but continue insisting it is inferior to the protection conferred by vaccines. They also say people who have recovered from COVID-19 can still benefit from vaccination.
---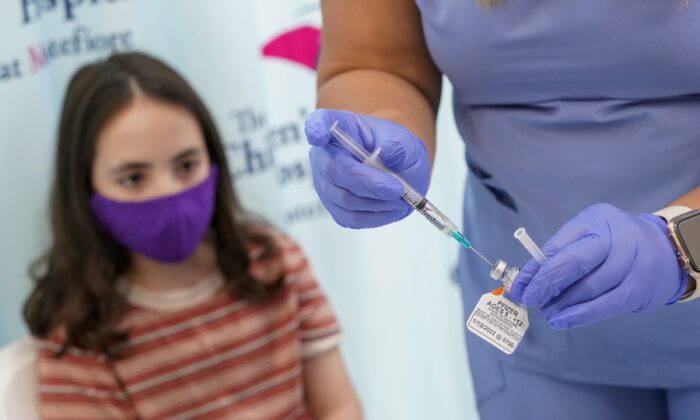 An 11-year-old girl watches as a nurse prepares a syringe with a dose of Pfizer's COVID-19 vaccine, at The Children's Hospital at Montefiore in New York City on Nov. 3, 2021. (Mary Altaffer/AP Photo)
Senior NIH Doctor Pushes Back on COVID-19 Vaccine Mandates NIH to host seminar on vaccine mandates on Dec. 1, official saysBy Jack Phillips, Epoch Times, November 9, 2021(https://tinyurl.com/dz7h9tyb)
A top infectious disease doctor has raised alarm about COVID-19 vaccine mandates despite top federal officials recommending them for businesses, schools, and other institutions.
Dr. Matthew Memoli, who runs a clinical studies unit within the National Institutes of Health's National Institute of Allergy and Infectious Diseases—headed by Dr. Anthony Fauci—is scheduled to argue against COVID-19 vaccine mandates during a Dec. 1 seminar hosted by the agency, according to David Wendler, a senior NIH bioethicist who is planning the seminar.
"There's a lot of debate within the NIH about whether [a vaccine mandate] is appropriate," he told The Wall Street Journal. "It's an important, hot topic."
Memoli had told Fauci in a July 30 email that he believes "the way we are using the vaccines is wrong," adding that mandated vaccines are "extraordinarily problematic," according to the WSJ.
In comments to the paper, Memoli said that he supports COVID-19 vaccination in high-risk groups including obese people and the elderly. However, widespread vaccinations for people who have a low risk of death or severe illness from COVID-19 could hamper the U.S. population's ability to develop more robust protection against the virus via previous infections, he said.
A Centers for Disease Control and Prevention (CDC) study released last month suggested that those who had a previous COVID-19 infection saw a five times higher chance of testing positive than those who were fully vaccinated and never had COVID-19.
Dr. Jeffrey Klausner, who previously conducted a study that suggested people with natural immunity are at low risk of reinfection, told The Epoch Times that the CDC's research was observational and said that "randomized controlled clinical trials are the gold standard of medical evidence."
Memoli also told the paper that he has sought an exemption from the federal vaccine mandate on religious grounds, saying he is willing to risk his job and medical license for the right not to receive a COVID-19 vaccine.
Regarding the discussion, Memoli said that "part of my career is to share my expert opinions, right or wrong … I mean, if they all end up saying I'm wrong, that's fine. I want to have the discussion."
The NIH seminar comes as a federal appeals court temporarily blocked President Joe Biden's COVID-19 vaccine mandate targeting private businesses with 100 or more employees. About two-dozen states have filed lawsuits against the rule, arguing the federal government lacks the authority to implement it.
The NIH has not responded to a request for comment on the seminar. When contacted by The Epoch Times, an NIH official said Memoli would decline to comment.
The Epoch Times has also submitted a Freedom of Information Act request to obtain Memoli's email.
---