November 9, 2021 by Steve Beckow
Today, Nov. 9, 2021

fcara ding
My thanks to Len, D, and Brian for their research.
Remember: "War" is for the purpose of declaring martial law. Declaring martial law is for the purpose of announcing the fall of the cabal and the return of the Republic.
No need to worry. This is what we've been waiting for.
---
Texas AG sues Biden Admin over vaccine mandate
Insider paper, November 5, 2021
(https://insiderpaper.com/texas-ag-sues-biden-admin-over-vaccine-mandate/)
Attorney General Paxton, along with several other states and corporations, sued the Biden Administration for imposing an illegal and unconstitutional vaccine mandate on private businesses. President Biden committed to requiring all private employers in America with 100 or more employees to force their employees to get vaccinated or submit to a weekly testing regime as part of his COVID-19 Action Plan, which was announced in early September. The Administration has now issued its Emergency Temporary Standard (ETS), which will be implemented by the Department of Labor's Occupational Health and Safety Administration (OSHA).
"The Biden Administration's new vaccine mandate on private businesses is a breathtaking abuse of federal power," said Attorney General Paxton. "OSHA has only limited power and specific responsibilities. This latest move goes way outside those bounds. This 'standard' is flatly unconstitutional. Bottom line: Biden's new mandate is bad policy and bad law, and I'm asking the Court to strike it down."
Attorney General Paxton filed a Petition for Review on behalf of the State of Texas with the United States Court of Appeals for the Fifth Circuit. General Paxton will file a Motion for Stay soon, outlining the numerous statutory and constitutional reasons why the ETS's implementation must be halted.
---
Canadian Provincial Labour Board Orders NB Govt to Cease and Desist
The Labour and Employment Board of the Province of New Brunswick, Canada, has issued a cease and desist order against the provincial government saying vaccine mandates were improper and could not be enforced.Video Player
---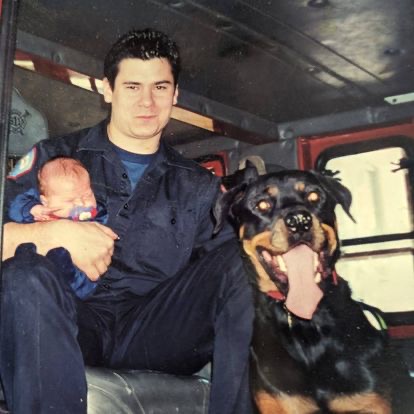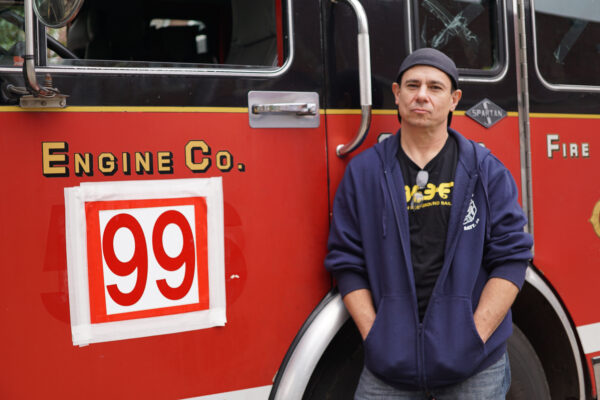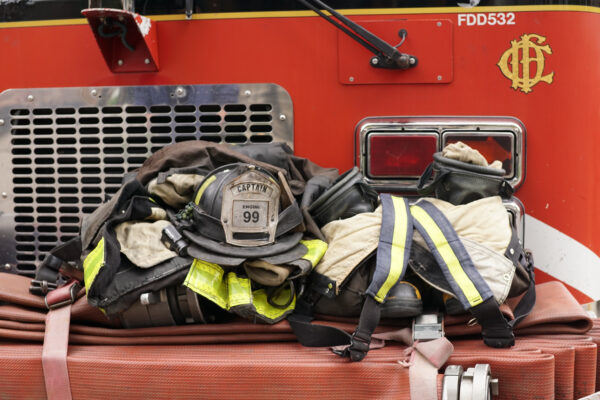 Our House is On Fire': Chicago Fire Captain Fights Vaccine Mandate
Cara Ding, Epoch Times, November 8, 2021
(https://tinyurl.com/dvbeb26f)<
CHICAGO—To Scott Troogstad, government control over people's lives has spread like a fire since the pandemic.
Small businesses owners were deprived of livelihood, students could not go to schools, faith believers were forbidden to pray at their churches—and now, that fire has reached his own firehouse.
In October, Chicago Mayor Lori Lightfoot ordered all city workers, including nearly 5,000 Chicago Fire Department (CFD) workers, to report their vaccination status by mid-October and get fully vaccinated by end of December. Failure to comply could mean losing jobs, Lightfoot warned.
Troogstad and his team had worked around the clock to respond to COVID-19 patients throughout pandemic, putting their own lives at risk. Some contracted COVID-19 and beat the virus after days or weeks of headaches and fever. Yet now, they were told they could not serve the city anymore, not until they get the shot.
That was a last straw that set him off on a bumpy journey of civil disobedience.
"Finally, we got to a point where the government encroachments started to affect everybody. We got to the point where people are going to rise up. When I say 'rise up,' I mean nothing more than simply not comply," Troogstad told The Epoch Times.
He did not report his vaccination status, nor did he submit a vaccination exemption request—he became a member of a fighting minority who will not comply in any way, shape, or form.
By mid-October, roughly three out of ten CFD employees refused to report their vaccination status by the deadline.
Other reasons for noncompliance include unwillingness to disclose medical information, protecting union bargaining rights, confidence in natural immunity, and safety concerns with the vaccination, according to interviews with a few CFD firefighters and a paramedic by The Epoch Times.
"If I don't take a stand right now, I couldn't look my children in the eye. That's the way I feel about it—we are at a point where you have to act to preserve the American freedom for our children," Troogstad said.
His fight came at a personal cost.
He was put on no-pay status, along with a few dozen other CFD employees. To him, that means a monthly paycheck loss of around $8,00o as a fire captain, and a potential loss of his health insurance in the coming weeks.
His wife, who still works, has health issues and relies on monthly medication costing $5,000. He also supports two children, a son in college and a daughter in high school.Scott Troogstad sits in his fire engine with his newborn son in 2000, shortly after he was assigned to Engine Company 99 of Chicago Fire Department on the southwest side of Chicago. (Courtesy of Scott Troogstad)
"My wife, I, and my kids are on the same team. I believe the moment we stand in is bigger than anything for us personally," Troogstad told Epoch Times, almost coming to tears.
"It is time for us to start acting like Americans and reclaim our position as the government. I have nothing but faith in God. It will be a bumpy road, but I will be fine," he said.
It is a fire he cannot put out with a fire engine and a hose. It is a fire he can fight with legal tools, he said.
On Oct. 21, a day after he was put on no-pay status, Troogstad filed a federal civil lawsuit along with 113 CFD employees and 21 city workers against the city of Chicago over the vaccine mandate.
The lawsuit alleges the vaccine mandate violates city workers' constitutional and fundamental rights and asks the court to render it void and grant monetary remedies. It also challenges Illinois Governor JB Pritzker's statewide vaccine mandate on health care workers and other employees.
It is the type of lawsuit commonly seen across the country, where state and federal judges are asked to reconcile the competing interests of public health and personal freedom during an unprecedented pandemic.
In Troogstad's case, federal judge John Lee on Oct. 29 denied the request for a temporary order to halt the city's vaccine mandate, basing his ruling on two legal precedents.
They are a 1905 Supreme Court decision upholding Massachusetts's smallpox vaccine mandate, and a recent 7th U.S. Court of Appeals decision upholding Indiana University's vaccine mandate.
In the coming weeks, Judge Lee will consider the request for a preliminary order to halt the city's vaccine mandate, after an examination of more evidence and arguments from both parties.
By Nov. 1, hundreds of previously noncompliant CFD employees changed course and complied with the mandate; a few decided to do so after being placed on no-pay status.Scott Troogstad stands next to fire engine 99 on the southwest side of Chicago on Oct. 28, 2021. (Cara Ding/The Epoch Times)
But Troogstad is staying the course. He tries to keep up his hope about the lawsuit, while at the same time looking around for jobs.
His last CFD bi-weekly paycheck arrived on Nov. 5, and it says $600. His side gig at Northern Illinois Public Safety Training Academy training firefighters helps pay some of the bills.
But he needs to look for a job that comes with health benefits to cover his wife's expensive medication. Any job he could find probably pays half of his fire captain income, he said.
"I am very disappointed that my 22-year career dedicated to fire service came to a screeching halt over this. If there's a legal remedy, I would love to go back to the fire department and continue to serve Chicagoans.
"If I lose the fight, it will break my heart. But God has and will set me on a path, and I'll continue to follow that path wherever it leads me," Troogstad told The Epoch Times.
---
A List of 106 Peer-Reviewed Studies Affirming The Power of Natural COVID Immunity
Arjun Walia, The Pulse, November 8, 2021
(https://thepulse.one/2021/11/08/a-list-of-106-peer-reviewed-studies-affirming-the-power-of-natural-covid-immunity/)
List of 106 Studies on Natural Immunity1) Necessity of COVID-19 vaccination in previously infected individuals, Shrestha, 2021"Cumulative incidence of COVID-19 was examined among 52,238 employees in an American healthcare system. The cumulative incidence of SARS-CoV-2 infection remained almost zero among previously infected unvaccinated subjects, previously infected subjects who were vaccinated, and previously uninfected subjects who were vaccinated, compared with a steady increase in cumulative incidence among previously uninfected subjects who remained unvaccinated. Not one of the 1359 previously infected subjects who remained unvaccinated had a SARS-CoV-2 infection over the duration of the study. Individuals who have had SARS-CoV-2 infection are unlikely to benefit from COVID-19 vaccination…"2) SARS-CoV-2-specific T cell immunity in cases of COVID-19 and SARS, and uninfected controls, Le Bert, 2020"Studied T cell responses against the structural (nucleocapsid (N) protein) and non-structural (NSP7 and NSP13 of ORF1) regions of SARS-CoV-2 in individuals convalescing from coronavirus disease 2019 (COVID-19) (n = 36). In all of these individuals, we found CD4 and CD8 T cells that recognized multiple regions of the N protein…showed that patients (n = 23) who recovered from SARS possess long-lasting memory T cells that are reactive to the N protein of SARS-CoV 17 years after the outbreak of SARS in 2003; these T cells displayed robust cross-reactivity to the N protein of SARS-CoV-2."3) Comparing SARS-CoV-2 natural immunity to vaccine-induced immunity: reinfections versus breakthrough infections,Gazit, 2021"A retrospective observational study comparing three groups: (1) SARS-CoV-2-naïve individuals who received a two-dose regimen of the BioNTech/Pfizer mRNA BNT162b2 vaccine, (2) previously infected individuals who have not been vaccinated, and (3) previously infected and single dose vaccinated individuals found para a 13 fold increased risk of breakthrough Delta infections in double vaccinated persons, and a 27 fold increased risk for symptomatic breakthrough infection in the double vaccinated relative to the natural immunity recovered persons…the risk of hospitalization was 8 times higher in the double vaccinated (para)…this analysis demonstrated that natural immunity affords longer lasting and stronger protection against infection, symptomatic disease and hospitalization due to the Delta variant of SARS-CoV-2, compared to the BNT162b2 two-dose vaccine-induced immunity."4) Highly functional virus-specific cellular immune response in asymptomatic SARS-CoV-2 infection, Le Bert, 2021"Studied SARS-CoV-2–specific T cells in a cohort of asymptomatic (n = 85) and symptomatic (n = 75) COVID-19 patients after seroconversion…thus, asymptomatic SARS-CoV-2–infected individuals are not characterized by weak antiviral immunity; on the contrary, they mount a highly functional virus-specific cellular immune response."5) Large-scale study of antibody titer decay following BNT162b2 mRNA vaccine or SARS-CoV-2 infection, Israel, 2021"A total of 2,653 individuals fully vaccinated by two doses of vaccine during the study period and 4,361 convalescent patients were included. Higher SARS-CoV-2 IgG antibody titers were observed in vaccinated individuals (median 1581 AU/mL IQR [533.8-5644.6]) after the second vaccination, than in convalescent individuals (median 355.3 AU/mL IQR [141.2-998.7]; p<0.001). In vaccinated subjects, antibody titers decreased by up to 40% each subsequent month while in convalescents they decreased by less than 5% per month…this study demonstrates individuals who received the Pfizer-BioNTech mRNA vaccine have different kinetics of antibody levels compared to patients who had been infected with the SARS-CoV-2 virus, with higher initial levels but a much faster exponential decrease in the first group".6) SARS-CoV-2 re-infection risk in Austria, Pilz, 2021Researchers recorded "40 tentative re-infections in 14, 840 COVID-19 survivors of the first wave (0.27%) and 253 581 infections in 8, 885, 640 individuals of the remaining general population (2.85%) translating into an odds ratio (95% confidence interval) of 0.09 (0.07 to 0.13)…relatively low re-infection rate of SARS-CoV-2 in Austria. Protection against SARS-CoV-2 after natural infection is comparable with the highest available estimates on vaccine efficacies." Additionally, hospitalization in only five out of 14,840 (0.03%) people and death in one out of 14,840 (0.01%) (tentative re-infection).7) mRNA vaccine-induced SARS-CoV-2-specific T cells recognize B.1.1.7 and B.1.351 variants but differ in longevity and homing properties depending on prior infection status, Neidleman, 2021"Spike-specific T cells from convalescent vaccinees differed strikingly from those of infection-naïve vaccinees, with phenotypic features suggesting superior long-term persistence and ability to home to the respiratory tract including the nasopharynx. These results provide reassurance that vaccine-elicited T cells respond robustly to the B.1.1.7 and B.1.351 variants, confirm that convalescents may not need a second vaccine dose."8) Good news: Mild COVID-19 induces lasting antibody protection, Bhandari, 2021"Months after recovering from mild cases of COVID-19, people still have immune cells in their body pumping out antibodies against the virus that causes COVID-19, according to a study from researchers at Washington University School of Medicine in St. Louis. Such cells could persist for a lifetime, churning out antibodies all the while. The findings, published May 24 in the journal Nature, suggest that mild cases of COVID-19 leave those infected with lasting antibody protection and that repeated bouts of illness are likely to be uncommon."9) Robust neutralizing antibodies to SARS-CoV-2 infection persist for months, Wajnberg, 2021"Neutralizing antibody titers against the SARS-CoV-2 spike protein persisted for at least 5 months after infection. Although continued monitoring of this cohort will be needed to confirm the longevity and potency of this response, these preliminary results suggest that the chance of reinfection may be lower than is currently feared."10) Evolution of Antibody Immunity to SARS-CoV-2, Gaebler, 2020"Concurrently, neutralizing activity in plasma decreases by five-fold in pseudo-type virus assays. In contrast, the number of RBD-specific memory B cells is unchanged. Memory B cells display clonal turnover after 6.2 months, and the antibodies they express have greater somatic hypermutation, increased potency and resistance to RBD mutations, indicative of continued evolution of the humoral response…we conclude that the memory B cell response to SARS-CoV-2 evolves between 1.3 and 6.2 months after infection in a manner that is consistent with antigen persistence."
(Read more: https://thepulse.one/2021/11/08/a-list-of-106-peer-reviewed-studies-affirming-the-power-of-natural-covid-immunity/)